Witness for the Prosecution
Agatha Christie
The Agatha Christie Theatre Company
New Victoria Theatre, Woking, and touring
(2010)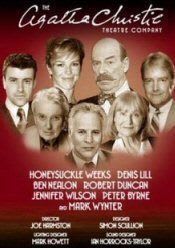 This, the seventh production by the Agatha Christie Theatre Company, begins each act with a recording of Allegri's Miserere sung by the choir of King's College, Cambridge - a very appropriate choice as the one thing you can be sure of in a Christie Mystery is that someone will be in need of divine forgiveness and mercy by the end of the play. What we never know is who, and this courtroom drama really does keep the audience guessing to the very end.
Originally written as a short story in 1925 (when the victim, a woman of fifty six was considered an to be an old lady), it was not until 1953 that Christie was persuaded to convert it into a play, which was swiftly followed by an Oscar winning Billy Wilder film starring Marlene Dietrich, Tyrone Power and Charles Laughton.
Here Simon Scullion has created a very solidly impressive set of the chambers of Sir Wilfrid Robarts QC, which, with a few seconds of feverish activity, turns quite brilliantly into the Number One Court of the Old Bailey where Peter Byrne's Mr Justice Wainwright comically demonstrates something we believe is common to most judges - being completely out of touch with modern everyday life, although remembering to the last detail every one of his previous cases.
I can understand director Joe Harmston's idea of the witnesses addressing the audience directly as if they were the jury, but in this case the alignment of the set means they have to turn their heads away from the interrogator to do so which gives the impression (to me at least) that they are being devious and somewhat economical with the truth, which I feel was not the intention. That aside, Harmston keeps the the story rolling along nicely balancing drama with comedy and including little observational touches of human behaviour - notably the men absent-mindedly warming themselves by the fire as they discuss the case in hand.
When the story begins the essential murder has already taken place and Ben Nealon's Leonard Vole is the obvious suspect - such a pleasant naive young man who freely admits to all the suspicious circumstances of the case with only his wife's corroboration of timing to support him, but Honeysuckle Weeks' Romaine Vole is not exactly the devoted wife he believes her to be - she has plans of her own. The guttural Russian accent which Weeks adopts is a little hard to understand at first, but her meaning is clear with the character displaying icy cold, calm control almost to the end, and giving evidence in a flat, unemotional tone of voice, until she finally breaks down.
The chief protagonist is Sir Wilfrid, played by Denis Lill, who takes over the case and the show in a star performance of thoughtful deliberation, aggressive interrogation, and chagrin when bested by the comical overtly Scottish housekeeper (Jennifer Wilson). He is well supported by Robert Duncan's equally thoughtful Mr. Mayhew, and courtroom comedy is credibly conspicuous - understated and very funny - with the verbal sparring between him and Mark Wynter's prosecution lawyer, Mr Myers, QC.
Most of the cast are well known from their many television appearances, with teen-idol Mark Wynter having begun his career as a very successful recording artist, but they are all also very well experienced in stage and film work, and bring the story vividly and excitingly to life.
Next year's production - Verdict - is already in the pipeline. I don't see how it could improve on this excellent production, but I for one am looking forward to finding out.
Touring to Bromley, Cambridge, Torquay, Coventry, Plymouth, New Brighton, Brighton, Richmond and Rhyl
Reviewed at Coventry by Lizzie Singh and by David Chadderton in Manchester
Reviewer: Sheila Connor