The Wind in the Willows
Kenneth Grahame, adapted by Alan Bennett, music and additional lyrics by Jeremy Sams
Library Theatre Company
The Lowry, Salford
(2011)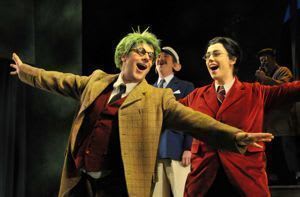 For this year's non-festive Christmas show, Library Theatre Company has turned to Alan Bennett's adaptation of Kenneth Grahame's tales of the riverbank, which sustained the National Theatre over several Christmases a few years ago.
The audience enters to see Judith Croft's striking and beautiful set lit to great effect by Nick Richings consisting of rough, wooden platforms and walkways and what appears to be a sail at the back. The character designs keep the animal aspects fairly simple with just ears and tails and a bit of make-up combined with the costumes of larger-than-life human characters, which is really what Grahame's original characters are.
As the show progresses, we see bright and colourful vehicles, such as Toad's beloved caravan and cars, which look like old-fashioned, painted wooden toys blown up in scale, and some wonderful furnished rooms that slide on from the sides, including Ratty's nautically-inspired house and Mole's cramped little home with its bunk beds, which all looks perfect. The one thing that doesn't work in the design is the projections; although the sail is a good idea as a screen for them, they are too small and far too dim under the stage lights to have any real effect at all, and what was visible seemed a bit shaky and didn't fit in with the colour pallet of the live action.
Chris Honer's direction, however, doesn't seem to be addressing this production to a family audience. The pace is slow, the performances are subtle rather than broad and a lot of the lines in Bennett's script are obviously addressed to sophisticated adult ears rather than to children and Christmas outings. The Lowry's publicity recommends this for audiences of six years and over, but I suspect that those at the lower end of that group will find it a little dull in parts.
If we accept that this is aimed at adults, there is much for them to enjoy, and there are still a few silly moments for the kids as well. Paul Barnhill's Toad isn't as bouncy and shrill as some portrayals but he is still a great character in a more low-key way. Christopher Wright gives a lovely, tender performance as an older, paternal Ratty with all of the grammatical and moral pedantry of Grahame's original, and Robert Calvert's Badger has quite a presence, although his affection for Sophie Gajewicz's wide-eyed, inquisitive Mole does appear a little suspect at times. There is a standout comedy performance from Jason Furnival as a Brummie horse, Albert.
The professional cast is supplemented by a small team of performing arts students from Salford University in two alternating teams, which are largely effective but often seem like superfluous filler material.
The Library's show looks and sounds great and there is a lot that is entertaining and enjoyable about it despite feeling overlong, but it does come across more as a light adult show that parents can take their children to than a true family show that appeals to all ages.
David Chadderton
Reviewer: David Chadderton