The Wizard of Oz - Beyond the Rainbow
Paul Hammond and Joe O'Connor, based on the book by L Frank Baum
Sunderland Empire and touring
(2005)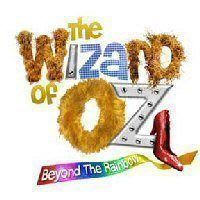 To tamper with a long-established, well-loved children's classic takes great courage - or great foolhardiness. Children's classics don't come more long-established than L Frank Baum's Wizard of Oz and there are few films or stage shows which are more well-loved than the 1939 film version and its many stage incarnations, so producers Paul Hammond, the Worthing Pavilion and Clear Channel Entertainment were taking a major risk by producing an entirely new version.
And it is entirely new. The story is, of course, the same but none of the familiar songs are there - can you imagine The Wizard of Oz without Over the Rainbow? I suspect there was nervousness in the Sunderland Empire's marketing department at tonight's first night. What was the reaction going to be? Would there be complaints? All the publicity had made it clear that this is a new version, but that never stopped anyone complaining yet!
To judge by the audience's reaction, however, complaints (if any) will be few. The show moves fast; the music is modern (disco mainly, with a touch of Elvis); the dancing appeals to a young audience, and the performances - as one has come to expect of touring musicals - are of a high standard. There's a lot of use of smoke and intelligent lights from two truss arches under which all the action takes place - although it has to be said that some of the young performers have not yet developed the old pro's habit of moving instinctively into the nearest spotlight! There is even a speciality act, aerialist Melissa Isley: circus skills seem to be becoming particularly popular at the moment.
Paul Hammond Productions specialises in panto - producing eight or so every year - and there is a definite panto feel to this show, with audience participation and even the "comic" picking out members of the audience as the butt of jokes.
Once you get past the expectations inspired by the "normal" version, this is a fun show. The composer - whom I assume to be MD Joe O'Connor, for there is no specific progamme credit - is no Harold Arlen and we don't come out humming any tunes, although the songs are pleasant enough. It isn't going to replace the "standard" version but it's certainly worthy of a longer life than the short tour it is currently on.
At just short of two and a half hours (including interval) I thought it might be too long for its intended audience and, indeed, one or two very small children did get restless, but the vast majority remained involved and enthusistic, and you can't ask for more than that.
Reviewer: Peter Lathan