The Wizard of Oz
L Frank Baum
New Vic Theatre, Newcastle-under-Lyme
(2007)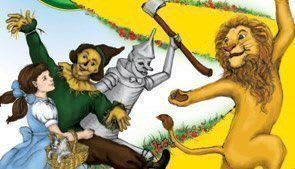 It's been a magical year for the New Vic. A string of classy, high-calibre productions have enhanced the north Staffordshire venue's reputation as a producing theatre and now the New Vic is serving up a wizard festive treat which is enchanting from the very first moment. I can't remember how long it's been since I left a theatre with such a warm, satisfied feel.
Staging The Wizard of Oz in a small theatre-in-the-round like the New Vic poses problems: how do you represent Dorothy's house in Kansas as well as the various locations she and her friends travel to as they follow the yellow brick road to Oz? How do you portray a storm that takes Dorothy into another world? And how do you make a wicked witch slowly vanish?
These are difficulties that the New Vic takes in its stride. They're overcome with a minimal use of props, expert lighting and subtle acting which still allow you to put your imagination to work.
Credit for this should go not only to the theatre's artistic director Theresa Heskins for her lively, assured direction, designer Kate Bunce and lighting designer Jo Dawson but to the whole backstage team for a superlative job.
Without being disrespectful, I reckon this version of The Wizard of Oz is a low-budget production compared with some of those on offer in larger theatres. At the New Vic there are only three musicians who play well although at times the overall sound is a little thin. There are no expensive props nor spectacular effects. Yet what you see close up in the intimate confines of the New Vic doesn't in any way appear cheap or makeshift.
As usual with New Vic productions, there is high-quality acting throughout while a few extra touches raise the show to an even higher level. There is a model of Dorothy's house complete with picket fence which sits proudly in the centre of the stage at the beginning and end of the performance; a couple of actors go into the audience as crows and treat the scarecrow with contempt; and a suspended emerald palace indicates that the heroic travellers have almost reached their destination.
The New Vic has chosen the perfect actor for Dorothy: Sheryl Lafferty has the experience to carry off the role yet retains a young, innocent look without being annoyingly childish. She has a fine voice and is an excellent dancer.
John Killoran is a joy to watch as both Uncle Henry and the Emerald City guard. I also hugely enjoyed Alistair Parker as the Lion; Nicola Blackman as both crusty Miss Glutch and the nasty Wicked Witch of the West; and a very talented group of 12 young Munchkins. They were particularly delightful as poppies which turned into snowflakes, an illusion created by merely exchanging red umbrellas with white ones.
Everyone loved The Wizard of Oz, from young children mystified by what they were seeing to adults who clapped and hissed at the appropriate times.
The Wizard of Oz is a five-star production which is marvellous from start to finish. Other theatre directors should be snapping up tickets to see how you can create a successful family show that's simple yet totally effective.
"The Wizard of Oz" runs until January 19th
Reviewer: Steve Orme