The Wizard of Oz
L Frank Baum
A West Yorkshire Playhouse and Birmingham Rep co-production
Quarry Theatre at the West Yorkshire Playhouse, Leeds
(2007)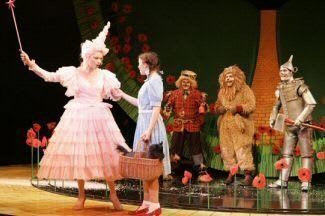 It's Christmas in Leeds and West Yorkshire Playhouse ends 2006 and begins 2007 with two plays in which actors pretend to be Americans. I wonder why?
But then again, it's Christmas, so here's my seasonal take on the main house production.
No need to outline the plot, the show follows the film (and who reads the original book by L Frank Baum?). It follows the film very well, with Helen Owen a plumptious Dorothy, just like Judy.... and all the gorgeous songs setting the audience clapping. Oh yes - a real orchestra making real music. Fantastic!
The singing is good and at times the choreography is startlingly good (thanks to the brilliant Jenny Arnold). And when the stage sparkles with The Jitterbug, the dance doesn't leave you breathless, it transports you to a different realm of being. It is extraordinarily good.
The acting whilst sometimes a little clinically accurate and lacking in soul, allows the director to get right on with the story telling. And, as we know, it's a great feel-good story and this is a very safe re-telling..
There were two outstanding performances. Great plaudits for Martin Callaghan in three roles: good Uncle Henry, excellent Winkie General... burstingly exuberant guard to the Wizard. Now there was soul. The second outstanding performance came from Toto the dog. Outstandingly awful. Why cast a crap dog? Are there no decent canine thesps left in the UK? It's not as if it had to assume an American bark! In fact most of the time the fat little trollop had a stuffed stand-in. I noticed this because I am a lifelong canophile!
The set, a sequence of patterned Jungian mandalas (a running theme here), was exquisitely lit (set by Peter McKintosh, lights by Mark Jonathan). However I must admit to a deep disappointment. I was waiting to see the exquisite job I was sure that McKintosh and Jonathan would make of the rainbow when it came.... and the damned thing never showed. I mean, give me a break, it is Christmas!
But, all in all, this is an excellent West End quality musical? I guess that's why it left me feeling grumpy (Yes, I know, but it's a small 'g' there). It's Christmas in Leeds, Yorkshire, not the West End and not Kansas City. I would love to have taken my partner's grandson to a really stunningly high quality regional panto in this, one of the best theatres in the country.
Still the lad and the rest of an almost full house loved what they got. Sadly an increasing proportion of them don't know what they are missing.
This review was lost in cyberspace for a considerable time and the show's run at Leeds has finished. We do apologise for the delay which was beyond our control.
Reviewer: Ray Brown