Wodehouse in Wonderland
William Humble
Cahoots Theatre Company in association with Jamie Clark Theatre
York Theatre Royal
–

Listing details and ticket info...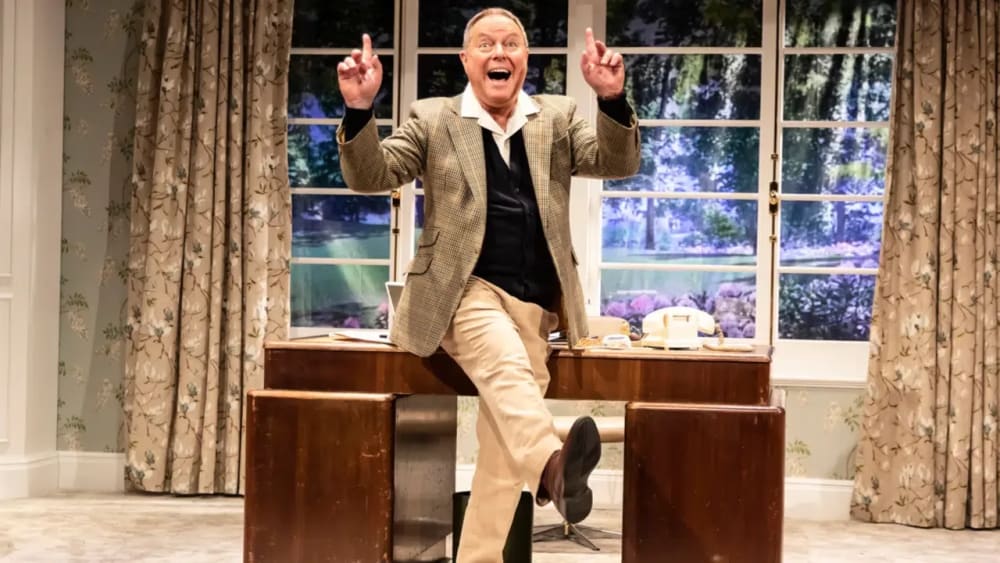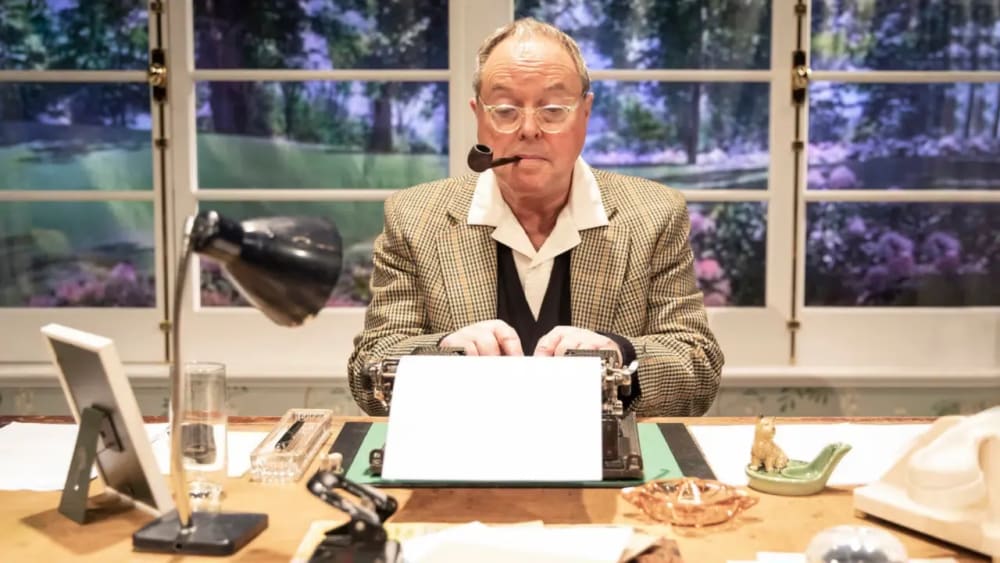 I've only finished a fraction of P G Wodehouse's vast oeuvre—encompassing seventy-plus novels, dozens of plays and hundreds of short stories—but everything I've read of his voluminous output runs the gamut from excellent to outstanding. As a creator of what he referred to as "musical comedy without music", he truly was a marvel.
I'm far from being alone, of course, in my admiration for Wodehouse. During his lifetime, he was praised by such luminous figures as T S Eliot, W H Auden, Dorothy Parker and Rudyard Kipling. And even the arch misanthropist Evelyn Waugh loved the great man's work, hailing him as "the master of my profession."
Written by William Humble, Wodehouse in Wonderland offers audiences a glimpse into the brilliant (but also frivolous and naïve) man responsible for bringing so much pleasure to readers all over the world. Performed by Robert Daws (who had a recurring role in Jeeves and Wooster), we see Wodehouse ensconced in his Long Island mansion during the 1950s. The scene is superficially pleasant (thanks to Lew Newby's elegant set) but tensions bubble beneath the surface.
A confirmed workaholic, the writer known affectionately as "Plum" (because he couldn't pronounce his first name, Pelham, as a child) is eagerly trying to write his latest novel, but finds himself being continually distracted by his wife, two demanding dogs and a persistent American biographer. We also hear his letters to his much-beloved step-daughter, Leonora (nicknamed "Snorkles"), which conjures a touching image of fatherly devotion.
Wodehouse in Wonderland is very jolly for the most part, with Plum talking affectionately of his home life, reading sections from some of his most popular novels and singing lyrics to the songs he co-wrote. Things become more serious in the second half, however, with Plum addressing the most controversial aspect of his life: the radio broadcasts he recorded for the Nazis whilst a prisoner of war. It's common now for commentators to take a sympathetic view of this episode, suggesting that he was not aware of the implications of his actions. At the time, however—despite the support of figures like George Orwell—Wodehouse was widely regarded as a national disgrace.
As a Wodehouse fan, I appreciated the chance to learn more about the writer's life in America, and I was thoroughly impressed by Robert Daws's charming and affectionate performance. That being said, I'm not convinced it would offer much enjoyment to someone unfamiliar with Jeeves, Wooster and Blandings Castle.
I can understand why Humble was drawn to write this show as Wodehouse is an intriguing figure. His critics—and, indeed, many of his supporters—have described him as a stunted individual in some ways, frozen in a perpetual adolescence and unable to commit to anything serious. In the second half, Humble manages to dig into this notion of the writer, but after a meandering first half, this seemed like too little too late.
Unfortunately, despite Daws's best efforts, Wodehouse in Wonderland is only a slight piece of work, often diverting but never truly compelling.
Reviewer: James Ballands