Woke
Apphia Campbell & Meredith Yarbrough
The Witham, Barnard Castle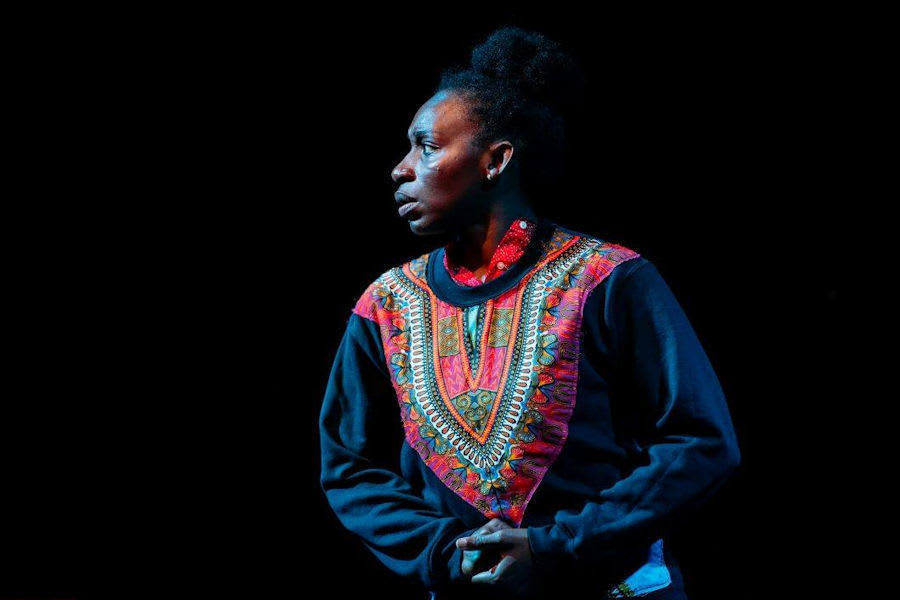 From the moment she walks barefoot on to the stage, you instantly know that Florida-born writer and actress Apphia Campbell has something important to say.
Campbell's voice is extraordinary, both as a singer and a writer. Her one-woman show has just two characters, one real, the other invented; both representing real people from the real world of political unrest in America.
Born in New York in 1947, JoAnne Byron adopted the name Assata Olugbala Shakur when she joined the notorious Black Panther Party. She was found guilty in 1977 of first degree murder, assault and battery against a police officer and a string of other convictions. She escaped prison, fleeing to Cuba and is, to this day, one of America's most wanted fugitives.
Her other character is Ambrosia, a fictional middle-class dentist's daughter who is enrolling at university to study voice and movement just as the 2014 Ferguson riots begin. Her dad wants her to be a dentist and her friends, she tells us, liken her to an Oreo biscuit: black on the outside and white in the middle.
Both women, 42 years apart, challenge the American justice system and become criminalised through political activism.
Campbell uses physical theatre to plait these two characters together with the aid of dance and song; she has the most enviable smokey blues voice, reminiscent of Nina Simone and Etta James.
On stage, with utter simplistic minimalism, is a chair, a stool, a small box and a microphone stand. It's hard to believe that one woman can portray so many characters as she tells the story of persecution in the two eras of American discrimination.
The teenage likeable and enthusiastic Ambrosia is happily tripping along the sidewalk in the city of Ferguson, one of the suburbs of St. Louis, when she's accosted by a cop and given a ticket for jaywalking. She's confused and tells the officer she's not jaywalking, explaining that she's on her way to enrol at University. He promptly gives her another ticket for objecting and the more talking she does, the more tickets she gets. The fines add up and she realises that they amount to more than $100 dollars that she can't pay until her student loan arrives.
It was at this point I realised how much freedom means to me personally; how I take for granted the ability to go about my daily life without a care in the world. The police are there to keep me safe, aren't they? Not so for Ambrosia; the chains of slavery are still evident in the way she's treated, simply because she's black.
A demonstration is taking place on the street ahead and Campbell becomes 18-year-old African American Michael Brown. Holding his hands up nervously, he begs 28-year-old white Ferguson police officer Darren Wilson, "don't shoot!" Brown is subsequently shot twelve times, his body left in the street for four hours. Ambrosia tells us that Wilson claimed Brown attacked him when he caught him robbing a shop. This event ignited unrest in Ferguson and Mike Brown became an innocent hero who needed to be avenged. The atmosphere in St. Louis became so thick with anger, you could cut it with a knife.
I've never heard of this Michael Brown but the mirror of coincidence sends an uncomfortable shiver down my spine—however, my lovely brother, my Michael Brown, is thankfully very much alive!
Back on stage, Campbell slides across the stage and, folding her body inwards, is now Assata—her chosen name which means 'she who struggles'. The whites of her eyes glow in the darkness of prison; she has nothing to lose now but her chains. "Free-dom!"—the chant is tribal—"Free-dom—Black Lives Matter!"
The rhythm of a drum-ride to the past resonates through the floor of the stage; the message easily crosses the cultural gap. They are the heartbeat of the universe and we either dance or we fight.
What Campbell has created is powerful theatre with a powerful message. It doesn't matter what the 4th or the 14th Amendment says, discrimination is alive and well and still living in our midst.
Apphia Campbell is a formidable performer and writer who shines her bright light into the darkness.
Reviewer: Helen Brown