Wolf Song: Journey to Valhalla

Livewire Theatre
Paradise at Augustines
–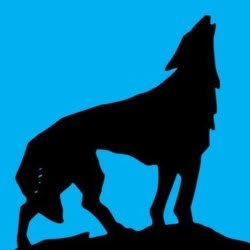 It simply doesn't feel quite like the Edinburgh Festival Fringe without a Livewire Theatre production. The company has been dazzling audiences with their skewed and ingenious adaptations of famous books, plays and myths for well over a decade, and with the Fringe having finally returned to something like normality, it wouldn't feel right for them not to return swinging for home runs.
Wolf Song is, like many of the creatures who appear within it, a monster of a performance. The cast numbers almost a dozen and ranges in age from a babe in arms to pushing fifty, and the story spans the entirety of the Norse God's existence, from the first creation to the final fires of Ragnarok told through the use of booming intonations, frenetic stage fights, Shakespearean dialogue, Pythonesque comedy.
Turning their talents to the tales of the Æsir and their tumultuous adventures, in-fighting, war-making and lusty shenanigans, Henry Weston-Davies scowls and broods as Odin, leading his family through the ages and partaking in their capers with a mixture of glee and exasperation, while Richard Bannister and Fabia Tate are clearly loving every minute as the boisterously meat-headed Thor and the furious but flirtatious Freya. It's up to Sophie Cooper's Frig and Henry Barker's Baldur to offer the more human and likeable side of these inhuman deities as the mother and son who are doomed to be parted by treachery.
But the meat of the tale, and much of the plot movement, falls to Charlie Barker's performance as Loki, who drives the story through much of his scheming and ploys serving as part-time narrator, as well as the vicious schemer, particularly in the latter half of the play, as the events drive the focus towards the inevitable prophesied catastrophe, where the threads tie into a form of ending.
It's also that narrative drive where the play stumbles a little in biting off more than it can chew. The sheer length of the piece and the company's signature stylistic overlapping of voices also accounts for the occasional fluffed line here and there. As well, the gargantuan scope of the story being told means that at times it feels like the series of disparate tales from which the whole is built rather than a coherent thread.
Quibbles aside, there are many strange horrors and delights to be had in the deep, dark and cavernous stage below Paradise at Augustines. It's certainly not a poor choice to make Wolf Song a part of your Fringe.
Reviewer: Graeme Strachan