Woman in Mind
Alan Ayckbourn
Chichester Festival Theatre
Festival Theatre, Chichester
–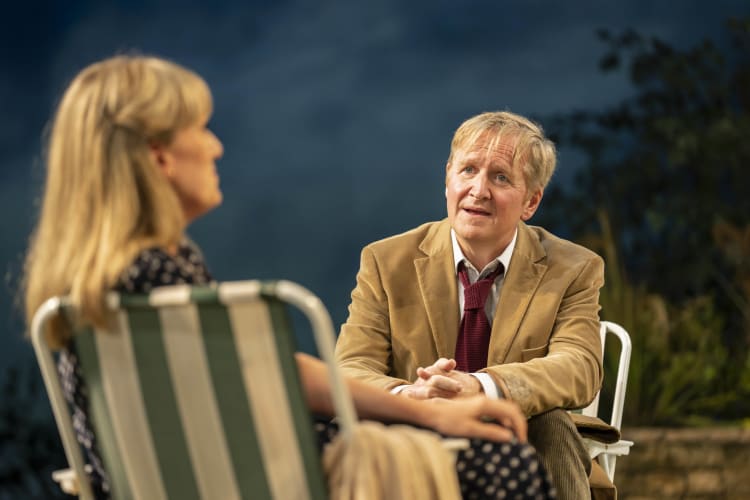 Ayckbourn seems to begin many of his plays in a natural everyday setting with a normal (usually middle class) family—until something strange or tragic is introduced which changes everything.
In a way this one is no exception. All right there is a woman lying on her back in the middle of a small garden, but there is a reason for that—she has accidentally hit her head, possibly by stepping on a rake, and knocked herself out. It even seems logical that the Doctor's greeting of 'remember me' she hears fuzzily as December Bee, which then begins a discussion of whether there are bees around in December. All reasonable so far, but her comments on her tennis court and swimming pool have the Doctor rather puzzled. Something is not quite right!
The woman is Susan; neglected by her insensitive, loud-mouthed husband Gerald and rejected by their only son, the poor woman feels useless and hopeless. Is it surprising that she invents an ideal loving family with an enviable lifestyle and a dwelling with vast grounds compete with lake, tennis courts and swimming pool. This new family become reality to her, so real that they actually appear surrounding her with love and acclaim, a different world for her to escape her unhappy life. For a long time she is between the two worlds, but gradually they intertwine, sometimes confusingly but eventually, and tragically, the imaginary world takes over and refuses to leave.
Brilliant designer Les Brotherston has created an amazing set spreading right across the stage and beyond, with lawn, flower beds, walls and steps so solid and sturdy they seem to have been there forever, all enhanced superbly by Mark Henderson's lighting with sound and video by Simon Baker. The whole is so effective that is seems we are there with them in the garden as day turns to night and a raging thunderstorm reflects the chaos in Susan's mind.
Comedy and tragedy work closely together and here it is mainly provided by Gerald's sister Muriel (Stephanie Jacob). Her attitude and resentful 'put upon' demeanour are a joy to watch as she stomps on and off stage. Recently widowed, she is now living with them and has brought along her husband's spirit, sure that he will appear to her one day. If he remembers her 'surprise omelette', he will probably keep well clear. It could be that which finished him off. There is a lovely, understated comedy in Matthew Cottle's doctor Bill, although a little too much time was spent on 'entertaining' an invisible child with a handkerchief mouse.
Aside from that, Anna Mackmin's direction keeps the action moving swiftly along, not an easy task with two differing families to keep on track, and performances are excellent across the board with, of course, a magnificent Jenna Russell as Susan, on stage throughout, going through every possible gamut of human emotions as if living every one. She must be physically and emotionally drained and fully deserved the tumultuous applause at curtain call.
The play was first performed in 1985 and it seems a very good time to revive it with so much talk about mental health and the tragedies which it can cause. There are suggestions that social media has a lot to answer for, and that's probably correct, but that was not available in 1985. The problem has been around much longer than we would care to believe. We can only hope that this play will bring it even more to the fore—whatever the reason, it's a frighteningly tragic story, but an impressively spellbinding production as we follow this deeply disturbed woman on her journey.
Reviewer: Sheila Connor