A Woman Alone
Franca Rama and Dario Fo, English translation by Gillian Hanna
Lavender Pictures and Jason Greer
The Tabard Theatre
(2011)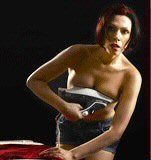 The title A Woman Alone is an ironic one: the problem for Daniela Lavender's character is that she never has enough alone-time. And yet, perhaps afraid of what true isolation means, there must be constant noise - music here, a TV on there - arguably to drown out those that do touch her life.
And what a horrible collection of manhood they are: the flasher across the road who torments on a regular basis; the creepy brother-in-law recently injured (whom she must nurse at her husband's command), bandaged head to foot yet tooting his trumpet with his one good hand (each toot harbouring a filthy and complicitly understood subtext); and the husband himself, whose relentless "just checking" phone-calls are received through an ear-piece clamped to the woman's head, and who controls her movements via a security tag on her ankle.
All this is related to a new neighbour, one that Lavender and producer Jason Greer cleverly imagine for us somewhere at the back of the tiny Tabard auditiorium. We learn that a recent affair with a young boy (the woman's only experience of true happiness and sexual satisfaction) has heralded the husband's clamp-down on her formerly restricted freedom. Soon, even the boy will be banging on the door for attention. It's all enough to drive anyone to desperate deeds.
Lavender deserves great credit: alone, she captivates attention for 50 minutes, mainly through her likeable character that is expressed through open and widely expressive features that are particularly effective in the high-energy opening mime sequence (no room for a botox-faced actor, here). It is a black comedy and extremes are expected, but a slight let-up in hystrionics would have aided dramatic subtelty.
Much is left unsaid: we never learn why children at least have not brought a modicum of happiness, or why the neighbour has so much time to hear another's story (perhaps she, too, suffers a similar loneliness). That said, A Woman Alone is a bleak yet satisfying study that speaks for the plight of many faceless women, stuck in lives that revolve around patriarchal control and domestic duty, both marital and maternal.
The writers are brave Italian performers and political activists. Christine de Pizan, a brave medieval writer, thought women were like fields without hedges, that there were no walls of protection: here, four walls can prove to be the tenor of isolation, rather than a vehicle of safety.
To 16th April 2011
Reviewer: Anita-Marguerite Butler