Woman Bomb
Ivana Sajko, translated by Vanda Butkovic
Produced by Berislav Juraic for Just a Must
Tristan Bates Theatre
(2011)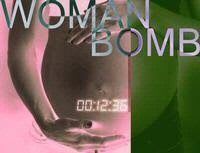 There are suicide pacts that include others. Shakespeare's Cleopatra and her ladies in an act of group solidarity, for example, share the worm; but as a rule "suicide" is a solitary, lonely act with sui meaning of the self, alone.
The suicide bomber therefore presents a paradox: the carrier intends to kill themselves and their target and usually (intentionally or not) includes those who happen to be in the wrong place at the wrong time.
In Woman Bomb multi-award winning Croatian playwright Ivana Sajko stages the final 12 minutes and 36 seconds of a female bomber's life and that of her "muse", a wealthy politician whom the bomber knows and understands through prior periods of watching, stalking, and waiting. These last few minutes present confidence, torment and despair on the bomber's part. We are forced to question what we would do with that precious time remaining.
Three actors - Nikki Squire, Laura Pradelska and Laura Harling - play different aspects of the bomber's persona, with the author herself revealed in dialogue suggesting the parallel angst-ridden world of the writer who should resist creating a heroine yet subjectively cares for her creation.
That these skilled actors are able to handle such difficult and provocative material so well is helped in no small measure by the fine writing of Ivana Sajko: a squished dog on the street is "scrambled eggs", the bomber's terror becomes a "face rolled in flour" and the bomb's aftermath "porridge" - credit here must also go to translator Vanda Butkovic.
Butkovic and fellow director Maia Milatovic-Ovadia make good use of a small space: a floor of smashed white bricks is offset by a dark background and contained within one hour of continuous action, adding to the idea of time compressed. They bravely cast the young, angelically blond and beautiful Harling as - in the main - the bomber, to avoid preconceptions and stereotyping.
Reality is woven into the narrative via the inclusion of real footage and opinions from psychiatrists and experts on terrorism: we learn of an increase in female bombers, both willing and coerced. It is perhaps this innate sense of woman as nurturer and literal producer of life that makes us more shocking when we do take life.
Attending the press night for the UK premiere of Woman Bomb presents a sense of belatedness: the project has ended its short run at Tristan Bates, but is due to return to London in May: hence here both a review and an expectation of further performances that will undoubtedly cause debate on a subject that remains only too topical.
Reviewer: Anita-Marguerite Butler