The Woman in White
By Wilkie Collins, adapted by Nicola Boyce
Ian Dickens Productions
Haymarket Theatre, Basingstoke, and touring
(2011)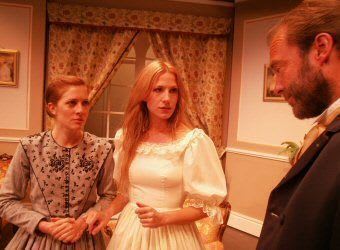 Nicola Boyce has intelligently adapted Wilkie Collins' Victorian thriller The Woman in White for Ian Dickens Productions and Dickens directs the play with confidence.
Originally published in serial form in 1859-60 the episodic formula is replicated in the play and works well with characters delivering testimony of events directly to the audience. However there are blackouts between each scene that begin to get a little tedious, particularly in act 3 when there are laborious scene changes.
It is also very long, running at three hours with two intervals, but once you adapt to the performance style it becomes a captivating piece of theatre and the audience were gripped by the twists and turns of the intriguing and convoluted plot.
It is a tale of deception, greed, mistaken identity, insanity and murder - the perfect Victorian themes for a thriller.
A mysterious woman dressed in white has escaped from a London lunatic asylum and bears a remarkable resemblance to Miss Laura Fairlie. Isla Carter is superb as both characters, contrasting the manic craziness of the woman in white and the composure of the determined spirited Laura.
She has become engaged to the ambitious and dastardly Sir Percival Glyde, strongly played by Peter Amory (ex Emmerdale), who is in financial desperation and hatches a plot to inherit Laura's fortune.
Colin Baker (aka the sixth Doctor Who) is the effervescent exuberant Italian Count Fosco, resplendent in his pointy shoes, all charming and entertaining singing extracts from opera, but has a darker, more devious side to his character fully realised by Baker.
Lucy Cudden is splendid as the formidable half sister of Laura who arranges drawing lessons from the young art teacher Walter Hartright who falls in love with Laura and becomes her protector.
There is sound support from Richard Tate as Professor Pesco and Glyn Grain as the eccentric wheelchair-bound Frederick Fairlie who is sensitive to light and, "a bundle of nerves dressed up as a man" who is looked after by his servant Louis (James Fulton-Smith).
Neil Stacey was the fatherly family solicitor Vincent Gilmour whose advice was wisely given and a particular mention to Karen Ford as the stalwart housekeeper Mrs Michelson.
Beautifully designed by Alan Miller Bunford with some charming period costumes this was a tense mystery play that had the capacity audience enthralled to the end.
Touring to The Lyceum Theatre Crewe 11th to 15th October; The Festival Theatre Malvern 18th to 22nd October and The Brewhouse Theatre Taunton 26th to 29th October.
Reviewer: Robin Strapp