Women and War: The West End and the Western Front
Laurence Houseman, Evelyn Glover, Sally Nicholls, Naomi Paxton and Hereward Carrington
Scary Little Girls
Locations across London from the Feminist Library to the Club for Act and Actors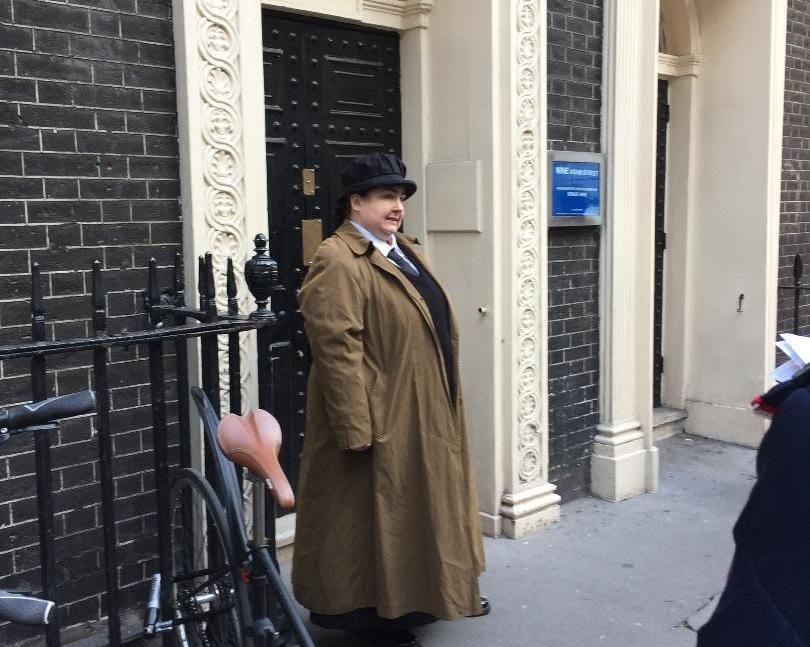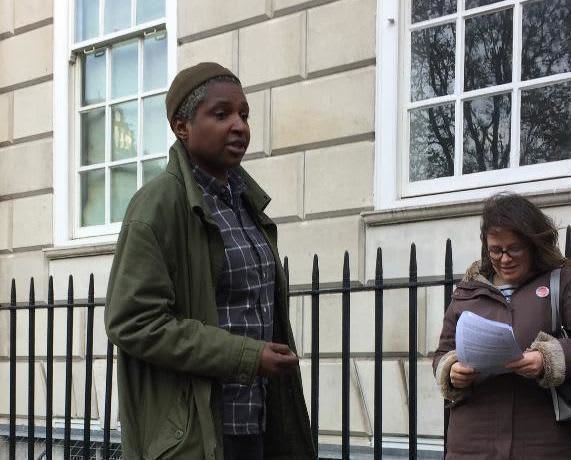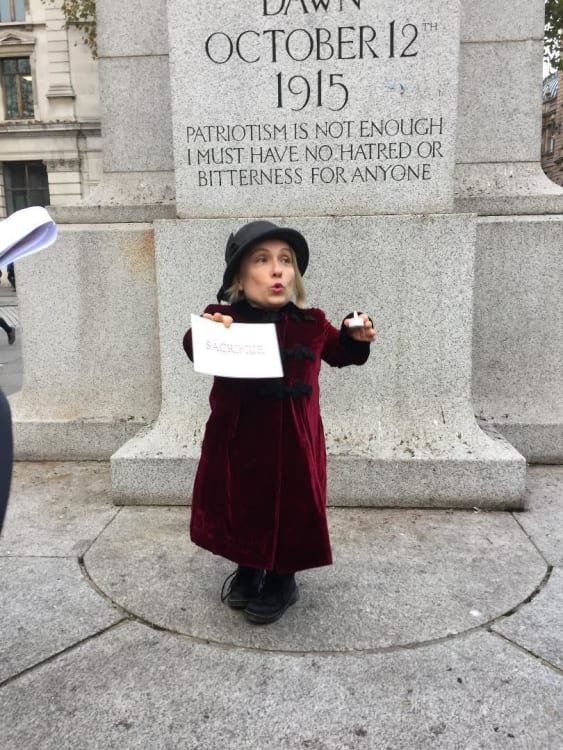 This is a walk across London linking places that have connections with the lives of women at the time of the First World War, its effect on them and their contribution to it. Participants in small groups follow a set of written instructions that set out the route with information about sites that are included and alerting them to when they should look out for dramatic encounters.
Half a dozen dramatic episodes occur en route: some out in the street, some within premises that participants are instructed to enter.
Starting off, very appropriately, at The Feminist Library (a new discovery for me to begin with!), where some will be given items they will need as they interact on the journey, it proceeds northward past the NHS London Ambulance Service. Did you know that actress Vera Holme, who had been Emmeline Pankhurst's chauffeur, became an ambulance driver in 1914?—and their were others but, when peace came, Scotland Yard wouldn't let them drive taxis: it wasn't until 1977 that the first female taxi driver was licensed in London!
Past the Old Vic, where Lilian Baylis was in charge from 1912—and as theatregoers you'll know all about that—there's a welcome waiting in an intriguing hall with classical pillars supporting a hammerbeam roof. Despite lively playing by Cavin Cornwall and Faye Wilson, its acoustic makes the encounter you witness not easy to follow. It's a discussion between father and daughter about marriage that helps set up the position middle class ladies found themselves in at the war's outbreak.
Further on the journey, the group are accosted by a woman of a different class; in trousers and a cap, she's a stark contrast. No one thought to ask her what brought a Brummie to London but we soon learn her family is having a tough time: father and brother both in the army, one now dead the other wounded, her mother no longer gets their army pay. Though she works making munitions, earning more than she did bottling jam, it's only half the pay that the men get.
Moving on across Westminster Bridge (known as the Ladies Bridge because it was built by a predominately female workforce) and a succession of other associations, the group encounters a woman in the bonnet and uniform of the Woman Police Service; she's looking for recruits and formidably played by Josephine Liptrott.
Past the sites of the Little Theatre (which became the home of the Women's Emergency Corps founded in 1914 by Suffragist actresses) and the Actresses' Franchise League office, the old Charing Cross Hospital where the wards were filled with war casualties, then across the Strand beside St Martin's church, the group reaches the statue of Edith Cavell, a memorial to the nurse executed by the Germans for sheltering British soldiers in Belgium. Here there is another more poetic dramatic intervention performed by Kiruna Stamell.
More exploration, including transit through little known Goodwin's Court (where play agent Peggy Ramsay had her office) towards Covent Garden ends up at the Club for Acts and Actors, home of the Concert Artists Association in a building Henry Irving bought to house the Green Room Club. Here comes the final encounter with Illona Linthwaite confronting Shazz Andrew as a soldier's mother meeting the young woman whom her son's letter makes it clear he wants to marry but of whom she disapproves.
Directed and produced by Rebecca Mordan and Naomi Paxton, this doesn't set out to tell one story, let alone give a history of a whole war. It is a look around London to offer reminders of past conflict and its effect, especially on women. Its dramatic episodes offer glimpses of individual stories and are cleverly crafted to deliver all kinds of information about what life was like without becoming lectures. They are played with a spontaneity that can't be easy when performing in public on busy pavements.
One hundred years after the First World War, much has changed, some locations are sites with new buildings, but there is much on this route still there after a century. Even those who know London well find themselves in places they have never previously encountered, notice things for the first time and learn new things. The dramatic elements are an imaginative way of adding information to expand knowledge, bringing to life key elements of what life was like while also entertaining.
It would be great if this dramatic element were expanded, but this doesn't promise a promenade play—like others who offer guided walks it's just that. The playlets are a very welcome bonus and it is all for free too for this is part of the annual Being Human Festival of the Humanities.
Reviewer: Howard Loxton