Women at War
Rebecca Johannsen
C cubed
–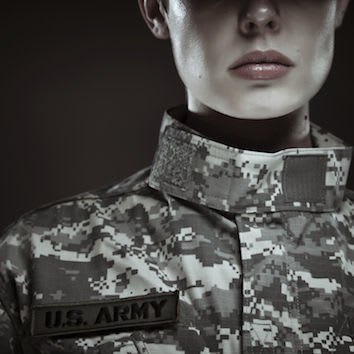 About a decade ago, America tried to save its floundering occupation of Iraq and Afghanistan by changes to its counterinsurgency policy.
They broke their long-held ban on women having a role in frontline combat by establishing the Female Engagement Team to work alongside male soldiers in combat. Their role was to gather information from local women and children.
It wasn't quite equality but it was sufficient to ruffle the prejudices of many serving soldiers.
Rebecca Johannsen's Women at War is derived from interviews with a number of women who were part of that unit in 2012-2013. It takes the form of a vivid monologue spoken by one woman character against a striking set designed by Mayou Trikerioti.
At the back of the stage stand three stuffed US uniforms topped by huge white balloons upon which occasionally is projected video of the lower half of faces speaking negative views about women.
Rebecca Johannsen gives a clear, intense performance as a determined recruit from a small Texas Town where "nothing really happens."
In Afghanistan, she is able to talk to local women who for cultural reasons would be unable to talk to male soldiers. It would help catch insurgents and save lives. Even a simple conversation with Afghan children about where they play could be a matter of life and death.
There are frustrations with the work. When she meets an Afghan family who distrust the army but have a wounded child she knows the army could help, she is blocked from helping and effectively building trust by a Captain who tells her help can only be given to those who have been directly injured by the American forces.
There is also the constant nagging prejudice of male soldiers. The female soldier will suddenly momentary convulse with the words "cry baby slut".
This is compounded by the disrespect of Afghan men who would summon FET members with the noise they made to summon a pet.
There is a harrowing account of having to stand powerless at a checkpoint where an Afghan man repeatedly hit his wife for failing to do what the soldiers had asked.
The pressure from the insurgency and the prejudice of male soldiers does cause casualties among the women but the photograph of them that gets the big publicity is one of her in uniform tenderly cradling a baby. It's a great picture but one that fits neatly with the stereotype of women.
The FETwas a step forward for gender equality among combat troops but a Rand survey of 2014 found that 85% of men belonging to the interservice combat operation units still did not want women serving alongside them.
This play shows why they are wrong and why their lives may depend on changing that view.
Reviewer: Keith Mckenna