Women, Beware the Devil
Lulu Raczka
Almeida Theatre
Almeida Theatre
–

Listing details and ticket info...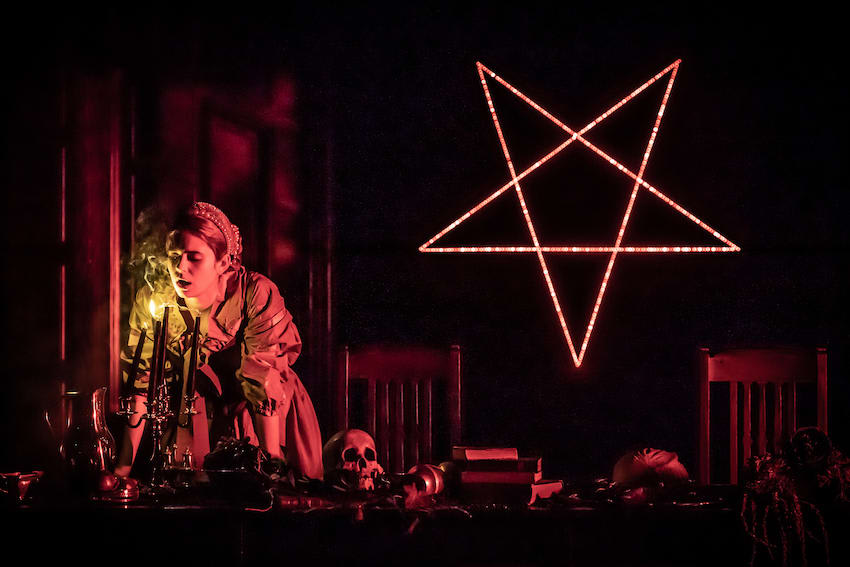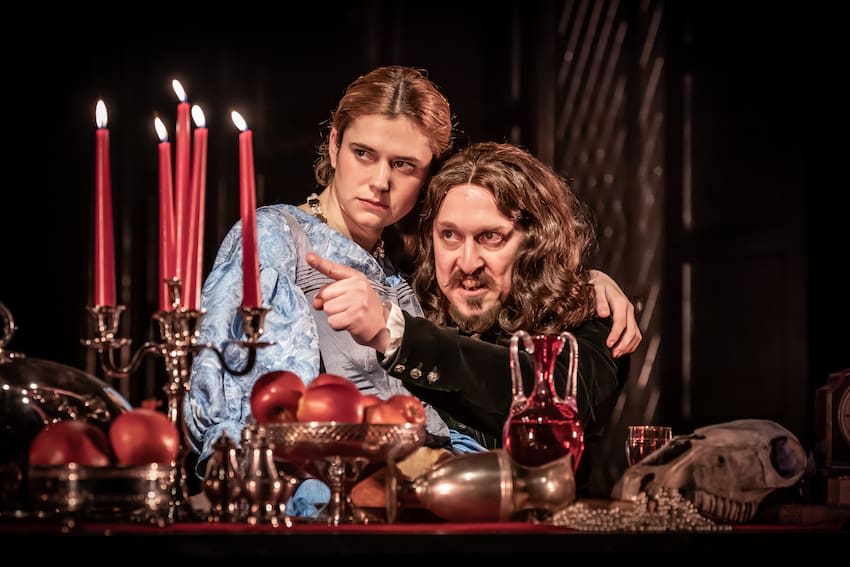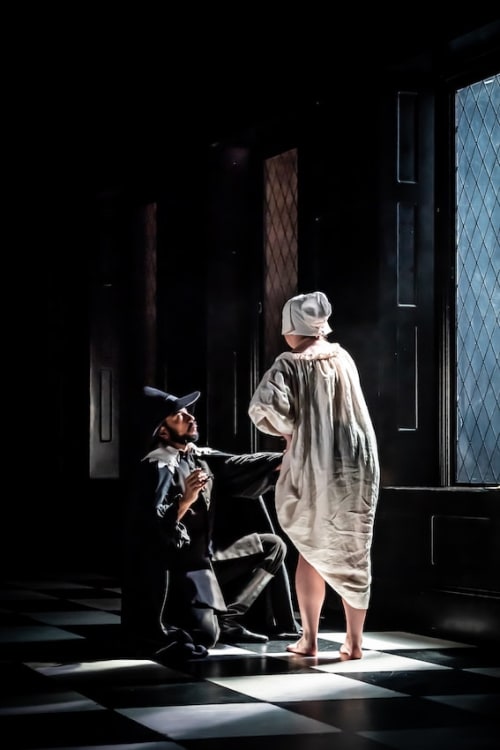 Do you believe in the Devil? You'll find him today, a prologue to this play at the Almeida, bemoaning that we don't give him the credit for what he does as he scans the news in the Evening Standard before taking us back to the mid-seventeenth century when people took him suitably seriously.
It is the 1640s, the eve of the Civil War, but it is property not politics that concerns Lady Elizabeth de Clare. Fearful that their ancestral home could pass to others and herself evicted, she plots a marriage to money for her irresponsible, doltish brother Edward but he won't countenance an alliance with the rich man's daughter she has found for him.
She plans to solve that problem by witchcraft, for rumour names one of her stable maids a witch. Though Agnes admits her mother knew magic and she leaned some things from her, she declares herself a good girl and would never use them. Threats to frame her make her change her mind and the next thing we see is Edward at dinner and married, though he claims not to know his bride. We are not shown how Agnes did it. There are offerings of blood and shining red pentangles appearing, but this is a plot that avoids real explanations as the power balance shifts from Lydia Leonard's arrogant, manipulative Lady Elizabeth to Alison Oliver's increasingly confident Agnes.
Ioanna Kimbook is charming as Edward's bride, beautiful and innocent, ignorant but excited about what might happen in bride-bed, but Edward won't even touch her: she's a tradesman's daughter. He will happily bonk his housemaid, even initiate incest, but that would be going too far. Leo Bill delivers a crazy caricature of this cavorting cavalier whose constant cry is "I'm a man, I need meat!" which Agnes now provides him despite the earlier death of all their cattle (but only after her magic has made her de facto mistress).
The first act left me wondering what the point was, where could this be going, but the second act brings fresh invention, a suggestion that blind loyalty is reckless, that both good and evil can bring change.
The Devil can take many forms and Nathan Armarkwei-Laryea's suave, horned gentleman pops up as a female-pricking witchfinder and a portrait painter butcher, else can we recognise his work in our world?
Playwright Lulu Raczka gives us a scathing picture of maleness: is it women who will bring a new revolution, or are women leaders in league with…? But what the devil—you don't have to dig too deeply. At the start, this one told us that this play "is pretty long—but don't worry it's enjoyable". So just enjoy its inventions and its humour, the echoes of Jacobean revenge drama and the theatricality of Rupert Goold's production with its lovely false perspective setting by Miriam Buether, Evie Gurney's rich costume, a table loaded like a Dutch still life and lighting by Tim Lutkin that makes it look like a Vermeer painting.
Reviewer: Howard Loxton