Women in Parliament
Aristophanes, translated by G Theodorides
Theatro Technis, Camden
–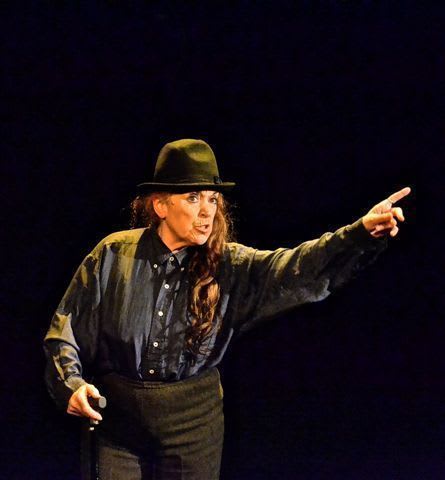 This is one of a cycle of Aristophanes' comedies that enterprising Theatro Technis is presenting. It is an adaptation of Ekklesiazousai (or Assembly Women as it a frequently called) translated by George Theodorites.
Theatre-loving Londoners with a nose for the unusual have been offered a feast of ancient Greek comedy with these plays at Theatro Technis, Theatre Lab's Lysistrata at Riverside, a brief visit by Athens's Spiera Spiera with Aristophanes Now, which drew on the whole range of his extant comedies, and later this week there is Meddlers Theatre Company's Socrates and His Clouds at Jermyn Street, inspired by Aristophanes.
We have seen some of the comedies in the past and perhaps things are changing. Lysistrata, with its appealing anti-war theme, has had recurrent revivals from McColl and Littlewood before they brought Theatre Workshop down to Stratford East and a Volonakis production that came into the West End from Oxford with husky-voiced Joan Littlewood as a seductive Lysistrata to a Peter Hall version and others more recent.
London saw The Birds in a Karolos Koon company visit to an Aldwych World Theatre season and a decade ago at the National in a circus collaboration with Kathyrn Hunter and Cloudcuckooland, a touring version for juveniles commisioned by the Onassis Programme as well as productions in the Scoop and at Camden Lock while The Frogs had a swimming pool production in Stephen Sondheim's version. However, compared with the regular appearance of classical tragedies in the repertoire why haven't there been more? This lively production of Women in Parliament by George Eugeniou provides some of the reasons.
The audience waits in the foyer until a group of masked, slogan-chanting women appear to lead them into the theatre and then introduce the play. It properly begins with the entrance of Praxagora, or Praxie, bemoaning the fact that the people she expects to meet at some unearthly hour before daybrieak have not arrived yet.
She may be an elderly lady with a walking stick, but Jackie Skarvellis (a stalwart of Theatro Technis productions) gives her a powerful personality. On arrival, she soon gets the other women organised, borrowing husbands' clothing, donning fake moustaches and beards to disguise themselves as men so that they can attend they can infiltrate the Athenian Assembly. In preparation they try out what they might contribute and off they go.
While it is still dark, constipated Bleyprus (Martin Head) creeps out. He couldn't find his clothes so he's wrapped up in a shawl of his wife's (it turns out he is Praxie's husband). He is stopped mid-straining by a neighbour (Mark Minshall) he has woken who can't find his boots either.
When another man appears, it is Chremes, played by Tino Orsini with a ponderous egotistical pomposity, who has come straight from the Assembly. Some chap has made a big speech about how well women run the home and gets everyone to vote for women taking over running the city. They are abolishing property and privilege. There will be free housing, free clothes, free dinners and free love.
In her egalitarian idealism, Praxie looks back affectionately to Nye Beven, appears to get Derek Skinner's support and makes friendly references to George Galloway but it is actually quite difficult to match modern personalities with the Athenians of 391 BC at whom Aristophanes is poking fun, and with women already represented in our Parliament it's not quite the same as the Athenian all-male Assembly. Aristophanes doesn't appear to refer to the salves kept by the men in the Assembly; presumably they are the ones who will do all the work in this new society. It is difficult to turns this into a socialist Utopia. This may be satire, not real life, but updating is dicey.
There is an episode satirising those who resist giving up their property in the person of Chremes, but what provides most of the real fun here is Aristophanes' proposal of equality not only between the sexes but between generations on the subject of sex. The old and the ugly have equal rights and to make sure they get them they must be served first before the hot young things are allowed to get at each other.
Ellen Patterson is a sexy young woman trying to ward off a lecherous Bleyprus before she can make it with Cameron McDowall's young Romeo while he has to handle not only a seemingly insatiable Praxie, now done up in spandex and sequins, but two other older women (Maddi Black and Shanni).
It was one thing for prurient academics to giggle over Aristophanes' sexual and scatological satire in ancient Greek but you can see why this wasn't really the stuff for the West End and reps of the mid-twentieth century. Although Aubrey Beardsley's grotesque phallic fantasies to illustrate Lysistrata gained a cult popularity during the hippy "revolution", one of the challenges of that play has been how to represent them so that they are funny rather than offensive to modern susceptibilities.
The designers don't have that problem with this production, which is about lust not endowment, but the cast let rip in their performances to great effect. Subtle this production is not. Neither was Aristophanes.
Reviewer: Howard Loxton