Women Warriors
JoJo Kirtley, Olivia Hannah, Becky Glendenning-Laycock and Juliana Mensah
Workie Ticket Theatre Company
The Exchange North Shields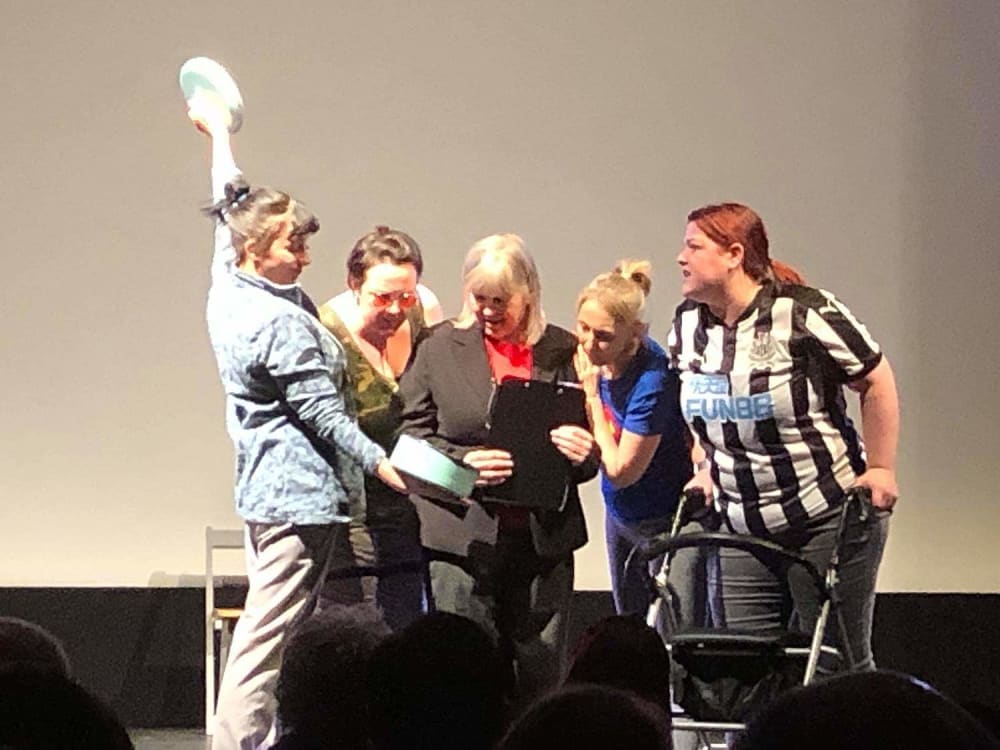 There was an almost evangelical feel to The Exchange bar and auditorium, a sense of great anticipation at a long and hard-worked project finally coming to fruition. The place was packed, with an audience about ninety per cent female. This caused certain logistical problems—a few strained faces among the interminably long interval queue for the ladies loo—but the occasion also created a sense of natural and creative solidarity which, if we take away the predictable footie, rarely happens with the male of the species.
Women Warriors, directed by Rosa Stourac McCreery and written by four separate writers, is a closely researched piece on the untold stories of female military veterans and how they are treated by the military both during and after service. The answer, you may not be surprised to hear, is shabbily.
Many female veterans took part in the research. Workshops and forum theatre explored their experiences and how they coped post-service, too often cast adrift in society where they have too little means to support themselves financially, mentally or socially.
This is of course not merely a female problem (a fact the production does point out). Whatever the sex, veterans can feel abandoned once their term of duty is over. The military may be good at killing people, not so good in nurturing their own members through the transition back to civvy life.
A cast of five take us through seven separate scenarios. At times, these are monologues direct to the audience, other times the pieces are dramatised. Thus we look at the experiences caused by sexism, the military's reactions on abortion, on being gay, plus the unthinking sense of male entitlement that colours much of the policy. One eye-opening anecdote is the military club where female combatants are allowed in only if they first expose their breasts. Another wryly humorous tale is of the unfortunate soldier whose vibrator is discovered by her male colleagues.
On a fairly bare set, the pieces are sometimes stylised and images are flashed onto a large rear screen. The writers are JoJo Kirtley, Olivia Hannah, Becky Glendenning-Laycock and Juliana Mensah and the ensemble cast are Ashlea Sanderson, Lindsay Nicholson, Jane Holman, Patricia Jones and Kathryn Debbage, all of whom work their socks off. Workie Ticket Theatre is based in North Tyneside, female-led and creates work that reflects contemporary social issues. The emphasis is on real stories, women's stories and it's attracted seven different funders, including Arts Council England.
One problem is that at two and a half hours, it's too long (as is most theatre that lasts that length). The treatment of female veterans is a worthy one but not lending itself theatrically to this duration, especially long and undramatic discussions on possible strategies for improvement—worthy but not that exciting. Fewer stories, examined more dramatically, less as reportage, would help.
I say all this fully aware I am probably the wrong sex to be reviewing the show. Witness the enthusiastic whoops and cheers at the finale, a sense of female togetherness, a positive spirit in a troubled age, an age made dark and dismal almost exclusively by men.
Reviewer: Peter Mortimer