Wonderful Tennessee
Brian Friel
Sheffield Theatres in collaboration with English Touring Theatre and Rose Theatre Kinston
Sheffield Lyceum
–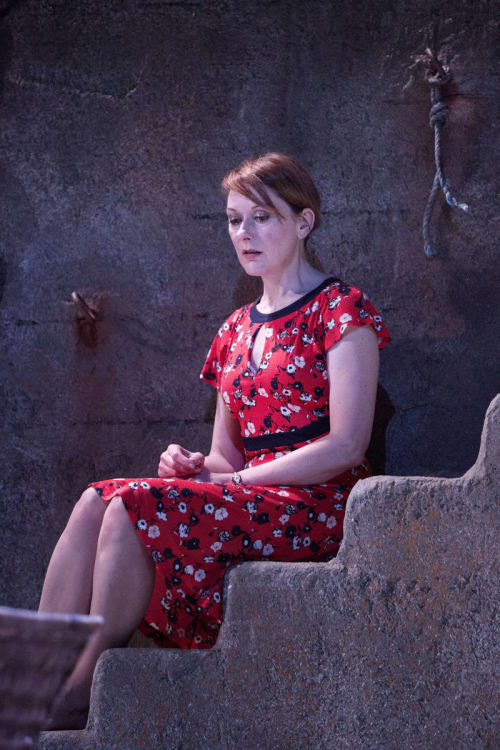 Wonderful Tennessee is the third play in Sheffield Theatres' successful and much appreciated Brian Friel season. Written in 1993, it was not the commercial success of the better known Dancing at Lughnasa (1990) but it is characteristic of Friel's distinctive, multi-layered writing style.
In this play we meet a close-knit, middle-aged Irish family group on a summer outing to celebrate Terry's birthday. After a long mini bus journey they arrive at a remote beach in Donegal where they can almost see a mysterious island, which is their ultimate destination.
However, the boatman, Carlin, (reminiscent of Charon) fails to turn up, and the three married couples are stranded for the night with the tantalising island an unreachable short distance away.
We first meet the couples when they arrive at the beach in an exhuberant, half-drunk state, shouting, singing, and dancing like a bunch of maenads led by a latter day Dionysus. Allusion to classical mythology is one of the strands of this complex and interesting play, which also embraces Ireland's early Christian past, folk lore, rituals and more recent remembered history.
The actors peer out over the auditorium, seeking a glimpse of the unattainable island, which affects the six characters in different ways, 'Whatever it is we desire but can't express. What is beyond language. The inexpressible. The ineffable'.
The long, overnight vigil is passed in singing songs and hymns and telling stories. The overtiredness of the group induces a heightened state of self examination which reveals sometimes unpalatable truths.
Musician Frank, movingly performed by Luke Carver Goss, has come to terms with his imminent cancer death, and makes arrangements to pass on the accordion, which has become his voice, to a nephew. Goss also provides live music throughout.
Cathy Belton gives a stunning performance as Berna, Terry's wife. From her first entrance it is clear that Berna is struggling to cope with the demands of this family expedition, and it is gradually revealed that she is having psychiatric treatment in a hospital, probably for depression.
Berna's gradual disintegration is presented in fine detail in Belton's strong and sensitive performance, and leads to an unexpected dramatic climax at the end of the first half. Berna's action has a cathartic effect and she seems better able to reach out to other people in the second half of the play.
Jean-Paul Van Cauwelaert is an engaging and personable Frank, estate agent turned niche writer, who is financially supported by Terry while writing a book on Time Measurement.
Frank's musings on hallucinations (brought on by sleep deprivation and hunger in the old monasteries) give credence to the notion of visions or apparitions, and eventually, despite his essential pragmatism, Frank himself has a significant early morning vision.
Angela, played by Andrea Irvine is initially the most dynamic member of the group. She is an all singing, all dancing entertainer in the opening moments of the play; and unlike the other women in the family group, has borne children.
She rejects advances from Terry, although she is not happily married to Frank. She is the one who insists on singing all the 'happy' songs she can think of, to cover the fact that she is not happy at all. A performance of strong contrasts, highs and lows.
Terry and Trish, his sister, are the two most positive members of the group. Trish, played by Melanie McHugh, is a cheerful presence, the least likely to see visions, or indeed the island, grounded as she is in concern for her dying husband.
As Terry, Dermot Kerrigan, is the group organiser, a concert promoter, bookie and gambler, who is also supplementing the income of the two other households. It is his energy and enthusiasm that has led to this birthday expedition and he is the last to believe that the boat will not come to take them to the island.
In his case the island is a chimera, a dream that has not come true. But, undaunted, he and the rest of the group determine to return another day.
This is a well modulated production by director Paul Miller. In addition to the contrasts provided by singing and storytelling, there is variation in pace, volume, energy, and stillness.
The long, offstage, initial entrance is a daring innovation, which allows the characters to enter one by one, or in a sub-group, which makes identification easier at the outset. Strong dramatic action, like Berna's leap and the supposed ritual attack of the second half, is convincingly managed.
Simon Daw's solid, realistic set provides a convincing background to the action and plenty of levels that the actors can occupy during the storytelling sequences.
The play is a fascinating fabric of ideas, stories, music and allusion. Definitely worth catching at the Sheffield Lyceum.
Reviewer: Velda Harris