Wonderful Town
Music by Leonard Bernstein, book by Joseph Fields and Jerome Chodorov, lyrics by Betty Comden and Adolph Green
Royal Exchange Theatre, Hallé Orchestra, The Lowry
The Lowry, Salford
–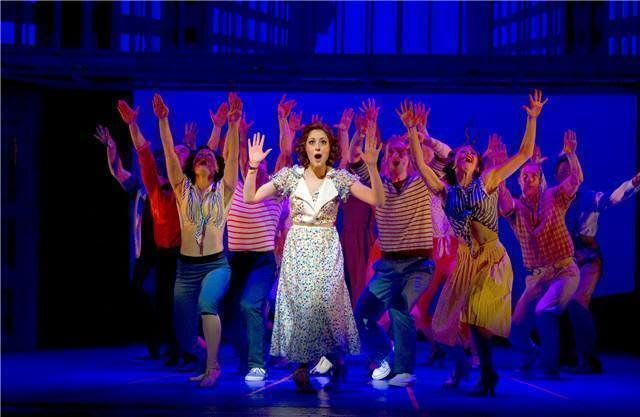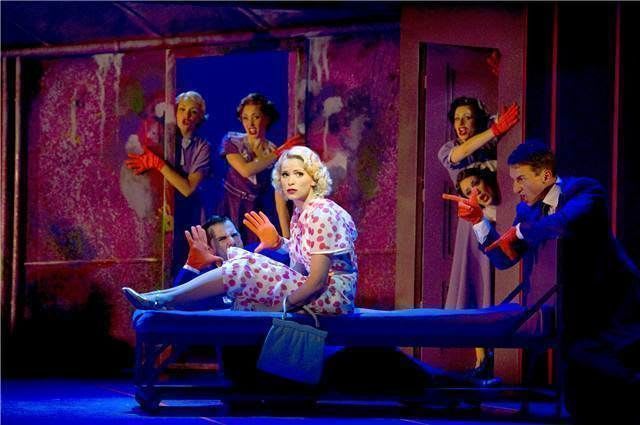 For a very short time in Salford, there is a chance to see something quite rare: not just a collaboration between three of the largest arts organisations in Manchester, but a full production of a musical with a full orchestra. Not a concert version, not a show with a pit band and certainly no banks of synthesizer keyboards to replace real instruments—and this version will only be seen at The Lowry.
The first thing that hits you on walking into The Lowry's Lyric Theatre is the yawning hole of an orchestra pit that I've never seen there before, taking up a large section of what is normally the auditorium. And it is huge and very deep—obviously it has to be to accommodate the full Hallé—which must make standing at the front of the stage quite scary. When Sir Mark Elder takes his position at the head of the orchestra, it launches into the longest overture I've heard for a long time with no cuts or contrived movement on stage to guard against the audience getting bored from just listening.
But this is only the first indication that we are stepping into a snapshot of a style of theatre from another era—in a good way. The angular, twisted-perspective design and unreal, Technicolor pallette of the design from designer Simon Higlett take us back to 1950s films, cartoons and graphic design; the angular, jerky choreography from Andrew Wright evokes the jazz clubs of the same era, the extended dance sequences in Gene Kelly's films and even early Bob Fosse.
The plot is also a string of 1950s romantic comedy clichés, but it does hang together. Ruth and Eileen are sisters from Ohio (a pretty one and a quirky, intelligent one) who have come to New York to forge their careers, Eileen as an actress and Ruth as a writer. They end up renting a basement in the seediest part of town but with a colourful collection of neighbours, including huge football player Wreck and his girlfriend Helen, nightclub owner Speedy Valenti and budding artist and the girls' landlord Mr Appopolous.
While Ruth is struggling to be noticed by anyone, pretty, blonde Eileen can twist any man round her little finger, to the extent that when she gets arrested, all of the policemen—all Irish, of course—are waiting on her as though the police house were a high class hotel.
The whole thing looks striking, is slick and classy and sounds wonderful—except for a few tinny-sounding mics which I'm sure will be fixed. There are parts of the score that are unmistakably Bernstein, a composer that certainly benefits from the weight of a full symphony orchestra.
After pulling out of the Sound of Music tour due to problems with her voice, Connie Fisher returns to Manchester as Ruth Sherwood, the quirky one of the sisters, very much the comedy role. Her songs are much lower in pitch than her Maria numbers, but she certainly carries them off well, and while she's no Maureen Lipman—who played the part originally on the West End—as a comedy performer, she gets the humour of the character across perfectly well.
As Ruth's sister Eileen, Lucy van Gasse relishes in the control the character has over men and grows from a frightened little country mouse to someone with the confidence to get what she wants. There is a really nice performance and some lovely singing too from Michael Xavier as publisher Bob Baker who might be in love with Ruth, or Eileen, or maybe one or both are in love with him...
Great comedy cameos come from Sévan Stephan as Mr Appopolous, Michael Matis as Speedy Valenti, Joseph Alessi as seedy newspaper man Chick Clark, the huge Nic Greenshields as Wreck and a few others in a great ensemble.
The book isn't great but it makes sense and is entertaining. Some may complain that the songs aren't "hummable", but Bernstein's music is impressive and distinctive and Comden and Green's lyrics are intelligent with plenty of wit.
While it isn't a classic of musical theatre, there are worse shows on in Manchester right now, so when you add some great performances, striking visuals and an almost-seventy-piece symphony orchestra in the pit (it will be cut down to 17 for the tour) director Braham Murray's swansong as an artistic director of the Royal Exchange is a pretty full and exciting theatrical experience.
Reviewer: David Chadderton