Wonderland
Music by Frank Wildhorn, lyrics by Jack Murphy, book by Gregory Boyd & Jack Murphy
Neil Eckersley
Opera House, Blackpool
–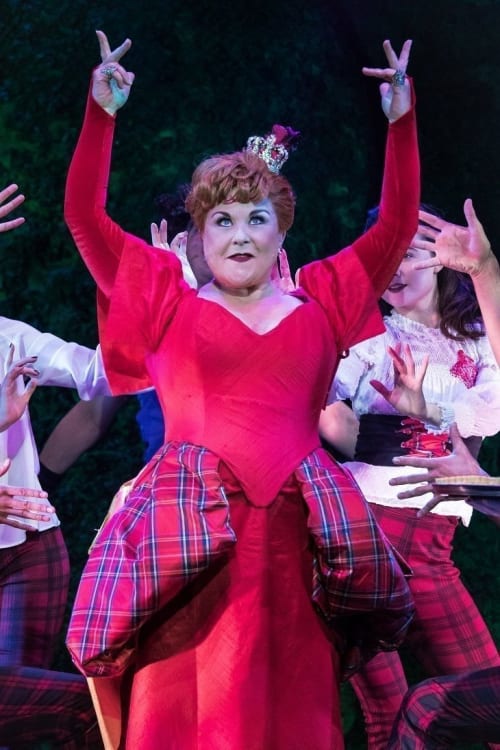 If, like Alice in Wonderland's White Rabbit, this show was not in such a tearing hurry—it could prove even more entertaining.
It's a freewheeling musical, based on both of Lewis Carroll's Alice books, and receiving its UK and European première on this tour. The show's American origins inevitably mean it has a lot to say for itself.
If it could just occasionally give us all time to breathe then both the cast and the audience might better appreciate the pace of both the humour and the music. The touring PA system doesn't help the latter in a venue here that is probably twice the size of many other stops on the show's journey.
Which is a shame since there are many strong performances, and director Lotte Wakeham and designer Andrew Riley create some spectacle out of it all.
Alice is 'reimagined' as a 40-year-old struggling single mum, sacked from call centre drudgery on her birthday, but tripping off to Wonderland with her teenage daughter and love-struck neighbour, because her life is in need of change...
So far, so West Coast!
She doesn't count on her offspring turning into a snarling adolescent, or her neighbour into a handsome hunk. Naomi Morris and Stephen Webb carry off these transformations with real effect, even if Rachael Wooding (rotating the Alice role with Kerry Ellis) has to rely more on the show's refrains to fill in her character.
The sentiments tend to be stronger than the songs, although Frank Wildhorn's music and Jack Murphy's lyrics create some neat pastiche numbers in the first act.
Wendi Peters, as a tottering Queen of Hearts, and Dave Willetts as the rushing rabbit are stalwarts as ever but Natalie McQueen, a 'Totally Mad' Hatter, Kayi Ushe as a louche Caterpillar and Dominic Owen as a crazed Cheshire Cat also give the show some added character fizz. The ensemble work, and dancing, is also first class.
When it's not on Fast Forward, Wonderland could be a delight.
Reviewer: David Upton