Wonderville: Magic and Cabaret
Creative Director: Laura Corcoran Magic Consultant: Chris Cox
Carter Dixon McGill Productions and Piers Cottee-Jones Entertainment
Wonderville
–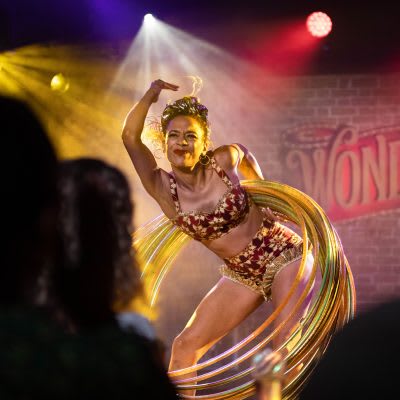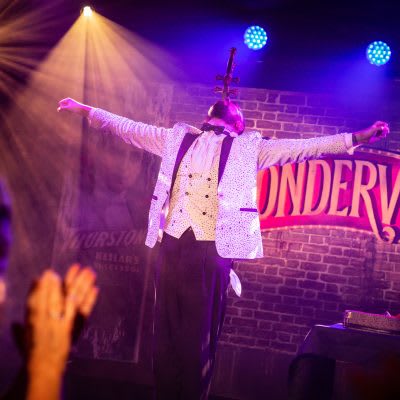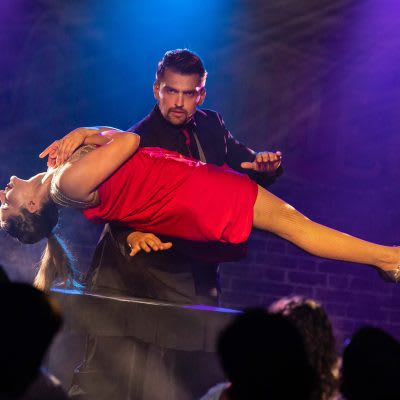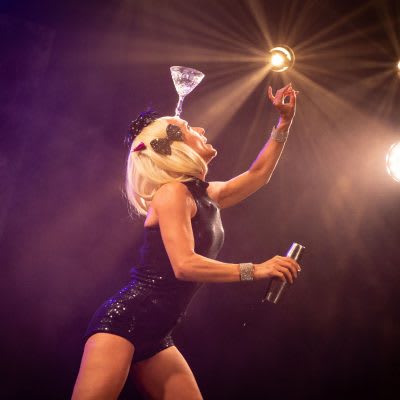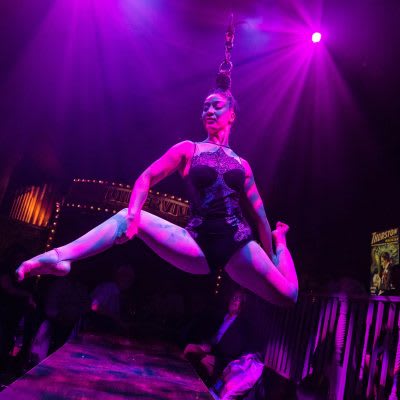 A year ago, Wonderville played a short season at the Palace Theatre; now it is back, under a new title, configured for a much smaller new venue in what was once Planet Hollywood in Haymarket. In an intimate, rather louche environment lined by reproductions of posters of magicians from the past, this now presents magic and speciality acts close up, even at your table.
During the day, Wonderville is a café-bar that in the evening turns magical presenting a changing programme drawn from a line-up 50 different acts. Opening night's sample selection was introduced by MC Desmond O'Connor who, describing himself as the last in a long line of Des O'Connors, gives the show an imaginary context by harking back to the magicians who performed in this very space 150 years since and introduces his fellow MC Chastity Belt.
Claiming this as an historic magic venue would have fitted the Palace perhaps; it is too phoney here. But Mr O'Connor is an energetic guide through the evening and Miss Belt, a large lady with a big personality and a powerful voice, can deliver a number with the best of them. In a succession of glittering gowns, she goes from sequinned tiny top hat to glittering crown and then sophisticated feather-like as she queens it over everyone. These MCs give the show much of its energy and build a close rapport with the audience.
Press night showcased a selection of acts on stage that kicked off with hula hoop spinning Amazi Olayiwola, who built up to what looked like dozens of hoops swirling around her lithe body or spun into sculptural constructions.
First of the on-stage magicians is gamin-like Billy Kidd whose personality enhances the flair of her sleight of hand with playing cards and wine bottles.
Next came Snookie Mono, elegant in a glittering white tuxedo and waistcoat who arrives with a violin case. Inside there isn't a fiddle but a selection of sharp swords, which he proceeds to swallow in a succession that gets progressively more dangerous, building to two at once, given extra edge by a slightly camp nonchalance.
Dapper Marc Oberon comes next who begins by producing a walking cane that has a life of its own, dancing in the air around him before it disappears in a scatter of shiny particles. Then, asking audience members to imagine cards, choose numbers or name places, he produces cards or folded papers that match, his unassuming, laid-back manner well-matched to the setting, and not only produces a succession of bottles from out of a newspaper but pours liquid from it, though he stops short at drinking it—it has turned into something else.
The audience at one of the largest tables have to evacuate their seats to make room for the next act, aerial dancer Tara Talland, who hangs by a hook through her hair as she swings through the air in acrobatic poses.
She is followed by the arrival of a seemingly inebriated Abi Collins (as Ritzi Crackers) staggering across that same table then over a balustrade on her way to the stage where she exhibits balance skills that contradict her condition before rewriting a member of the audience to get us all laughing.
Final magic act in this press show was The Matricks, the only act using large-scale equipment, in which Alexander Jesson levitates his sister Emily and then disappears a couple of showgirls. This isn't the act's most spectacular trick which would require a much larger stage but it is magic in close-up.
Even more at close quarters is the magic provided before the show starts and between acts by doyen performer Fay Presto, who can turn a burning piece of string into a gold watch right under your nose, make a coin you provide enter an empty bottle when it couldn't possibly go through that narrow neck or even force that same bottle through your table then suddenly restore it unbroken.
As a stage show, this press version of Wonderville was sprawling and lacked shape. I'd rather have less MC repartee and more magic, but the regular show may be more compact and it is intended for a cabaret audience offering something more varied than a dedicated magic show. Intimacy can undermine dramatic impact unless you are prepared to be really disturbing and this is relaxed entertainment.
Up close you may be, but can you see how it is done? That's where the wow is. They may be low key on drama but these magic skills are still amazing.
Reviewer: Howard Loxton