The Darkness in a Wooden Bell
Lee Man-Hee
Lathos
Greenwich Playhouse
(2004)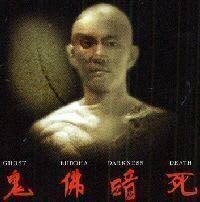 This is a thought-provoking play, set in a Buddhist temple in Korea. There are four living characters and two ghostly ones. Tanseong (Richard Morris) is an earthier character than one would expect of a Buddhist monk: he is not very reverent, he swears at people, and soon tires of sacred rituals such as chanting over a corpse, but on the other hand he has grasped the central tenet of Buddhism, that one must let go of the world and its trappings in order to achieve full enlightenment.
This is a lesson which the more outwardly reverential Dobop (Richard Woolnough) struggles to learn: he has been traumatised by the rape of his wife some years before, and is haunted by a Ghost (Jay Lim) who represents his anguish, and by a vision of his suffering wife (Jou-Ri Yamanaka) as he attempts, but fails, to paint a new Buddha for the temple. The elderly Abbot (also played by Richard Morris) has not entirely 'let go' either, but knows that he should, and compromises by adopting an ethos of moderation: he seems preoccupied with the pleasures of eating and drinking, asking Dobop to bring him some cherries on his next visit -- but 'not too many'.
We learn in the first scene that Dobop has committed suicide after gouging out his own eyes and jumping to his death -- the rest of the play is a flashback, leading up to that event. The sombre mood is considerably lightened by the cheerful Wolmyeong (Mark Pang), who bustles about the temple dusting, hoovering, serving food, chatting and singing.
The visual aspects of the production are good: the set was designed by Nigel Hook, the lighting by Dudley James. Costumes were good too, though I was rather puzzled by the thick, ribbed socks worn by three of the actors (only the two ghostly characters were barefooted) and a modern watch worn by Tanseong. There may have been good, symbolic reasons for these details, but that didn't prevent me from being distracted by them.
This play was first performed in Korea in 1990. Lee Man-Hee, who has won many awards for his writings, describes it as "a product of the fusion of my ardour for religion and for literature, of my pursuit of the ideal self and my coming to terms with my present self". The play contains a clear message, without being overtly didactic, that we all need to find our own peace of mind in a world full of violence, tragedy and self-indulgence. For Dobop, because of the trauma he has lived through, that peace of mind comes only through self-mutilation and suicide: hopefully for the rest of us, as for the other characters in the play, more moderate solutions are possible.
"The Darkness in a Wooden Bell" runs until 4th July
Reviewer: Gill Stoker