Woody Sez
David M Lutken with Nick Corley
Arts Theatre
(2011)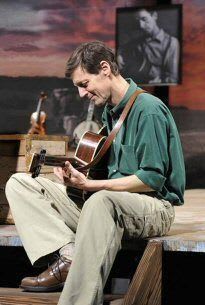 Woody Sez is a jukebox music from a time when jukeboxes were only just being introduced. Woody Guthrie's songs may have been more radio than coin-operated music machine, but then the show is more wholesome and homespun than coin-operated music machine too.
A quartet (or five-some on this particular night: William Wolfe Hogan made his first British appearance to back up Andy Teirstein, who was losing his voice) of talented string players tell the life story of Woody Guthrie, better known now for being the inspiration behind musicians such as Bob Dylan, but remembered by the older members of the audience as a fine and moral singer-songwriter. The quartet play a vast range of instruments - guitars, fiddles, banjos, a double bass, the spoons - to play through some of Guthrie's best loved numbers, including 'This Land Is Your Land' and 'This Train Is Bound For Glory', and use them to tell the story of Guthrie's music making.
With laid back passion and gentle amusement, David M Lutken takes on the role of Guthrie. Through his strong and easy-on-the-ear singing and his monologues, he takes us from Guthrie's birth, across America on his travels, through the time of his most stirring protest songs right up to the time when he stopped playing due to his tragic Huntington's disease. Backing him up with various characters and instruments, Helen J Russell's sweet tones combine nicely with the rougher tones of Darcie Deaville, and Andy Teirstein and William Wolfe Hogan together provide spirited singing and accompaniment.
Much like Guthrie and his music, the production is low-key and easy going. Whilst often amusing, it's never hilarious, though often toe-tapping and uplifting, it never blasts you with a wall of euphoria. Though it would probably be better in a smaller space, the cast create an intimate, welcoming and inviting atmosphere - literally inviting: they invite you to bring your guitars on a Saturday night to join the hootenanny after the show.
Like the production, the set is simple and effective with a picture of rolling plains coving the back wall and black and white pictures from Guthrie's life hanging from the ceiling.
It's a shame: the production is heartwarming and does everything it sets out to do, but it will be mostly lost on younger theatregoers. Anyone who has ever enjoyed the music of Woody Guthrie or those he's inspired should go and see it, but unfortunately this will mostly be an older audience.
For those who don't listen to folk music the show may just prove to be a gentle and pleasant evening out, but for those who do this is a stirring night of talent and morality. It may not be a diamond in the rough, but it is a good ol' rough and tumble in a West End that's all hard and shiny.
Reviewer: Emma Berge