Work Makes You Free
Michael Ross
Network Theatre
Vault Festival
–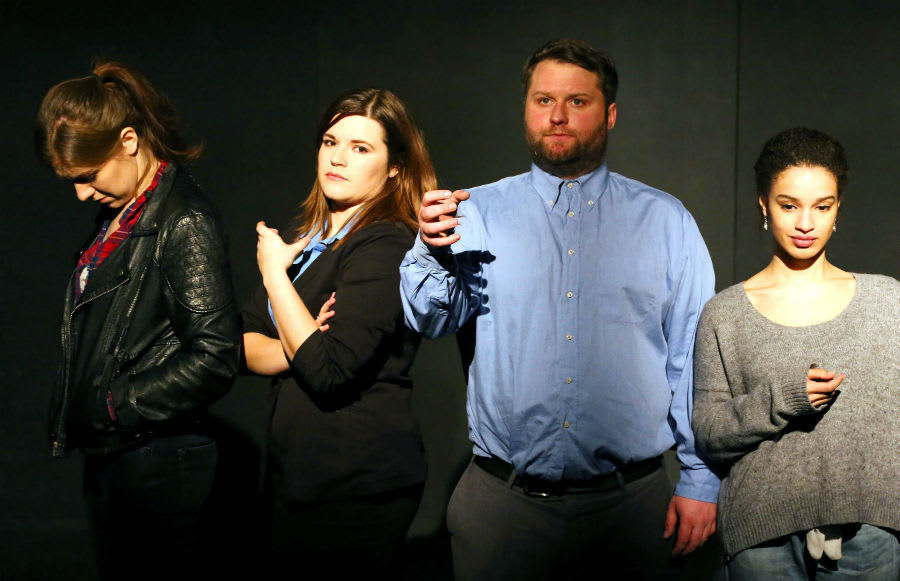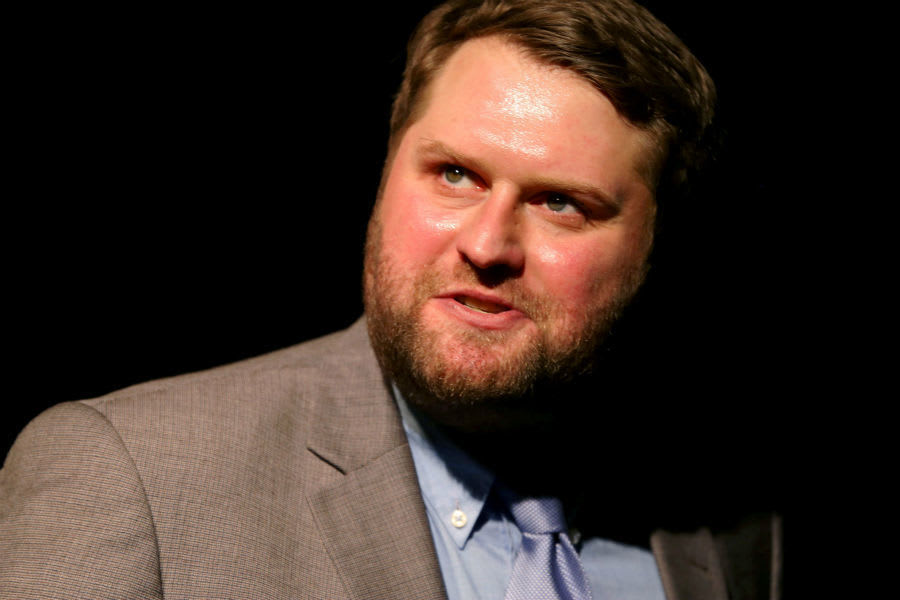 None of the four characters in Michael Ross's gentle satire Work Makes You Free feels particularly free in their relationship to work and all of them can be a little irritating about it when we first meet them.
Top of the unpleasant list must be the smug politician Adam (Nicholas Stafford), always ready to self-publicise with some politically right-wing statement or some provocative photo opportunity.
The play's title comes from one of his speeches bashing the unemployed which backfires as the morning newspapers picture Nazi death camps with the slogan over the gates reading "Arbeit macht frei" (work makes you free).
But he is hiding a secret and, in his determination to run away from his background, he presents himself as an extreme right-wing Tory.
The show takes the form of four character monologues that are intercut with each other to build a picture of aspects of working lives. As the play develops, their stories connect.
It opens with visual movement of the characters rushing their preparation for work and cramming themselves into the transport that might get them there.
That morning transport crush bugs Jane (Emily Bates), a businesswoman who particularly resents what she regards as the chaos and scruffiness of artist types such as the character Willow (Laura Pieters). It's a view tempered by her former student experience of a one-night stand with an artist at a nearby college.
Willow is a self-absorbed theatre practitioner who, like many working in the arts, spends long periods earning nothing. She is very certain of her own importance and even translates this into her art, starting a company called "Precarious Theatre".
She seems happy enough and even likes her job centre employment advisor Kirsty (Miranda Evans) though she isn't entirely comfortable being sent to work for her benefits at Poundland. But she is able to turn even this into a play.
Kirsty doesn't feel she is much use at work or even helping her boyfriend James when he is made redundant from HMV. She longs to earn her way in music and treasures the times she gets billed for a gig.
The writing is sharp and imaginative. The actors all give engaging performances and Nicholas Stafford with his intense, piercing politician's look and a voice moving between charm and cynicism is particularly effective.
Humour dominates the early part of the show but later the play suddenly shifts direction three times in a way that would crash any car attempting the same manoeuvres. But it works and gets us to sympathise and understand better each of the characters. In one moving scene, tears quietly rolled down the face of the man sitting along from me.
Not content with surviving the surprising shifts in direction, the play ends on a rather cheeky note that lightens the mood. It will probably make you smile even as you wonder if it should really have been the way to end the play.
Reviewer: Keith Mckenna