World of Wrong

The Two Wrongies
New Greenham Arts, Corn Exchange, Newbury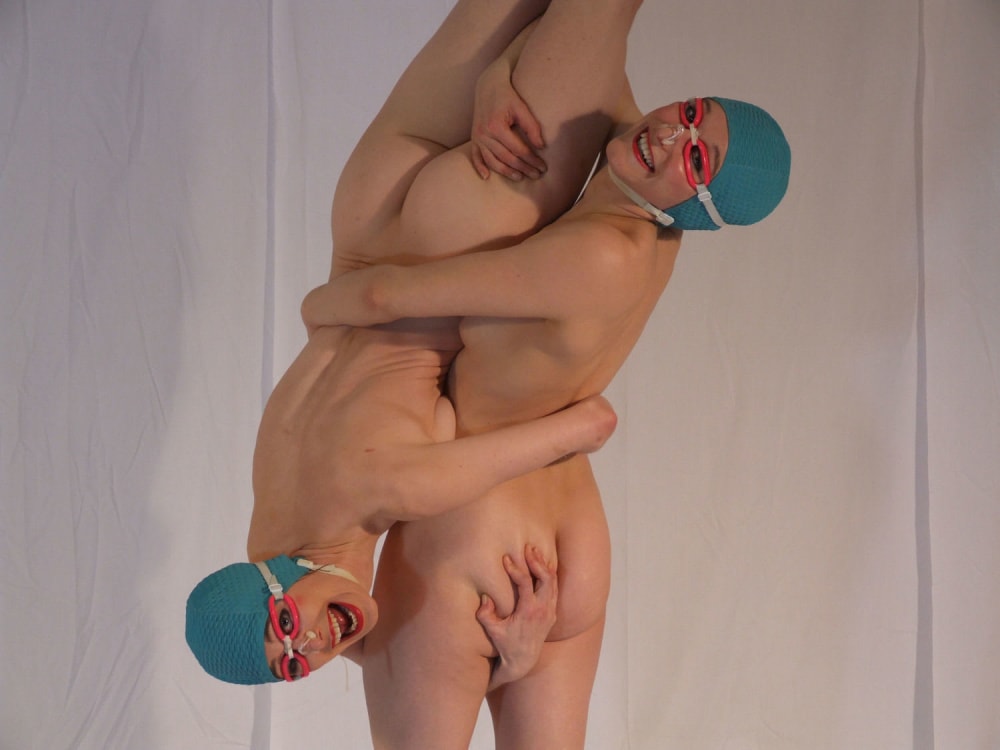 I'm really not sure what to make of The World of Wrong, the comedy dance review starring Avis Cockbill and Janine Fletcher. Their premise is, "to question the things around us and view them from another perspective and throw away the shackles of embarrassment."
The production begins with the two actors asleep on the floor. Above them is a screen surrounded in crumpled cloths. There is no doubt that they are accomplished dancers, and they cleverly use costumes from hangers to create characters and even a baby to use in their opening routine.
They reveal individual personal anecdotes about their lives, their loss of virginity, their jobs as lap dancers cleaners, and burlesque performers. There are Pythonesque video clips projected on the screen including a tutu-wearing chicken being stuffed ready for the oven and blow-up dolls and they perform a series of surreal sexual sketches.
This is certainly not a show for the prudish or easily offended since in one scene they dress up in a huge, foam penis and vagina and simulate sex. It's really rather funny, if somewhat shocking and unexpected, but they do promote safe sex by using a condom.
Their dance routine from Chicago, complete with jazz hands and sweeping brushes, is slick and amusing.
To the song "Nobody Does It Better", we have a satirical sexual act performed from the male perspective that is full-on and, frankly, embarrassing and the audience cringed. The duo certainly challenges our sensitivities.
There is a farcical exploration of their version of the "lunge" that has apparently become their signature motif.
The couple are not afraid to reveal all and perform naked with their hilarious nude synchronised swimming act performed to Queen's "Bohemian Rhapsody", which is both shocking and bizarre.
Their final routine involves a black dress that they both inhabit and is skilfully performed, endorsing their dance skills.
Yes they shock, much is certainly in questionable taste but they also dare to question sexual relationships and femininity, reach into our own perceptions of life today and take comedy into a new realm.
Reviewer: Robin Strapp