The World's Wife
Adapted from the poems of Carol Ann Duffy
Trafalgar Studios
(2010)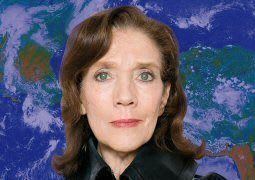 Performed by Linda Marlowe, this one-woman show takes us on a feminist romp through history and myth, in a series of comic, sparkling, poignant and touching poems by the brilliant Carol Ann Duffy. From gender-disturbed Mrs Tiresias, formidable Frau Freud to apple pie sweet Circe, the line moves through history with a swish of skirts and a saucy wink. With a back drop of perfectly chosen and beautifully designed digital media each poem is introduced, and these fascinating ladies stride forward into our imagination.
Marlowe creates a pantheon of characters with only the addition of a simple prop: a delicate scarf and she becomes the majestic Mrs Herod, an enveloping raincoat and she's the hunchback Mrs Quasimodo, a flower in her hair has her aping Queen Kong and some killer heels turns her into the strutting Kray Twin Sisters who rip up London's gangster scene but are also known for their protection of the sisterhood. What really shines in this delightful piece is the brilliance of Carol Ann Duffy's writing and every poem is like an exquisite gem, just waiting to delight the female soul.
Marlowe really hit her stride later in the place on the night of attendance, and these brought some of the most satisfying moments, it was just a pity that her initial delivery was so fast that the audience had no time savour any moments at the beginning. However her characterisation is committed and graceful, duly giving each character the careful considered attention they deserve. Portraying 'The Devil's Wife', Myra Hindley really brings a sobering moment to the evening and Marlowe does it with dignity and pathos.
With Di Sherlock's deft direction, Andy DeVries' lovely design and Marlowe's instinctive performance, this is an altogether joyful night at Trafalgar Studios and only to be recommended to all your friends. Satisfying, slick, subtle and superb, go and see The World's Wife and walk away feeling uplifted, charmed and certainly smiling.
Reviewer: Sacha Voit