Worth
Joanne Lau
New Earth Theatre and Storyhouse in association with Arcola Theatre
Arcola Theatre
–

Listing details and ticket info...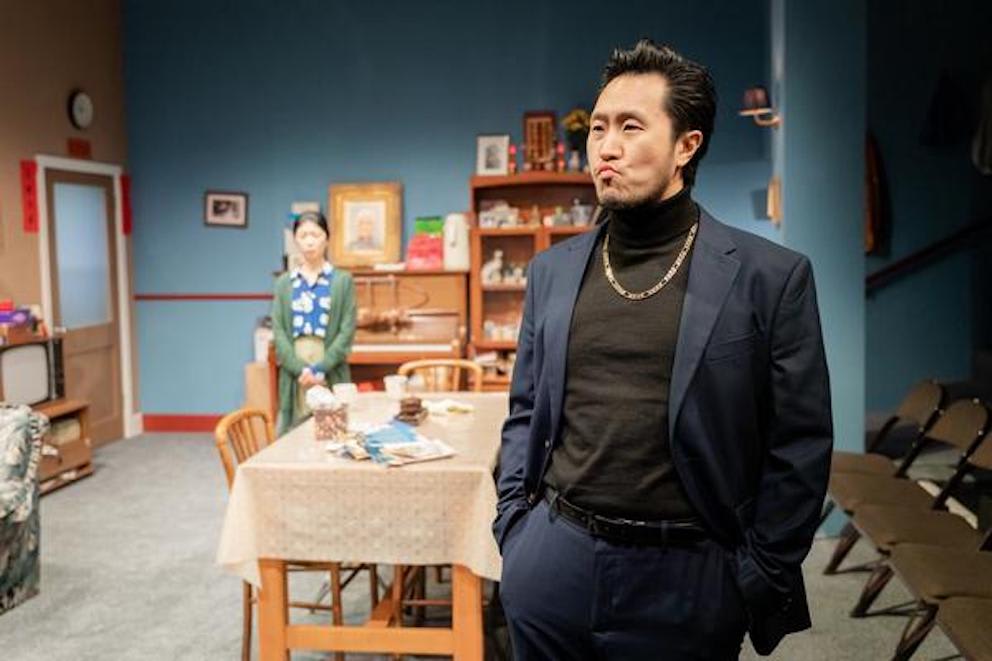 In Mrs Yeung's house in East London, her children are gathering before attending her funeral. This is the first time in 18 years that they have met all together.
Eldest son Jacob (Arthur Lee) is not long out of prison after serving a sentence for drug dealing; eldest daughter Penny (Jennifer Lim), self-effacing and always trying to please other people, is there with her teenage son Anthony (Leo Buckley): she has just brought an elaborately framed photo of her mother down from upstairs. Other son Ted (Stephen Hoo) runs a profitable dental practice; he and his wife Susan (who hasn't come with him) took his mother on cruises as well as paying for other things, including most of the funeral costs. Youngest daughter May (Sara Chia-Jewell) has flown in from America where she has become an evangelical Christian minister. This is a family story, but these siblings are soon quarrelling; it is not going to be a happy tale but one that uncovers a past that is painful.
These brothers and sisters are all there to find out what they are inheriting, but Ted has a shock for the others. The total balance in mother's bank account was £44 and the house they are in had been mortgaged, but the mortgage payments weren't made and it has been repossessed. Legally, they shouldn't even be there!
But…. and a big but, she did get a payout of £20,000. She didn't use it to reduce the debt, so what happened to it? Who knew? Who has got it? Then they remember that their mother didn't trust banks but stashed money in odd places, and that sparks off a wild treasure hunt.
What is the worth of that hidden wealth and of each of their shares in it? They argue their claims on the basis of how they supported her and what they had to put up with as they remember the hard time she gave them. But there are other kinds of worth, that of their personal achievements and that of their status.
As the eldest, bully boy Jacob wants the lot and sets out to get it. He learnt his tough guy tactics from their father, along with traditional attitudes, shared by his immigrant siblings, of respect for one's elders, respect and even subservience, with physical punishment for those who don't observe them. They grew up in a culture different from that of UK-raised Anthony and they spill out horror stories that become clues on their treasure trail. The fractious family and their posturing may have a comic edge, but this becomes a very dark story.
These aren't the kind of stories you make up; you can't help a strong feeling that dramatist Joanne Lau draws here on real life dilemmas, but director Mingyu Lin overlays it with theatrical stylisation. Performances edge into satirical portraits, each different in style, to underline their characters' personalities. There are sudden sound effects and floods of red light to mark significant moments, action sometimes speeds into manic movement and the portrait of dead Mrs Yeung doubling in size during the interval. It is a bold strategy, its theatricality impressively carried out, but to what purpose? Like Moi Tran's setting with its realist detail of littered surfaces but doors in architecturally impossible proximity, it doesn't quite fit together.
Worth will be playing at Storyhouse, Chester, 7–29 May 2023.
Reviewer: Howard Loxton