Worth
Joanne Lau
New Earth Theatre
Storyhouse, Chester
–

Listing details and ticket info...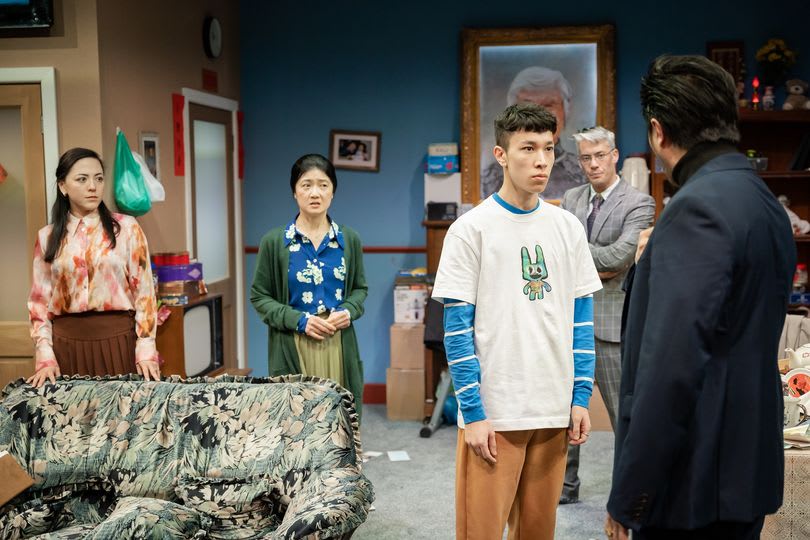 Joanne Lau's vibrant yet dark new production is apparently based on the true events that followed the death of her mother. Examining any family dynamic at a time of grief, and when the established family hierarchy is shattered by the death of an elder, would be meaty enough. However, Lau has also shone a light on the cultural and generational issues that are intertwined in such situations among immigrant families.
Joanne Lau's journey to writing is fascinating, with fifteen years spent working in neuroscience and a stint as a comedian preceding her time in the BBC Writersroom Comedy Room. However, Lau hopes that Worth may help to counter the feelings of shame and isolation experienced by some of her community in times of loss. Directed by Mingyu Lin, Lau's vision is realised in a potent and powerful production that has moments of genuine hilarity that sit, uncomfortably at times, alongside violence, abuse and dark revelations.
Set a few hours before their mother's funeral, the Yeung family are meeting at her home for the first time in many years and we are initially struck by the mundane interactions between Penny (Jennifer Lim) and her son Anthony, a frighteningly convincing teenager played by the impressive Leo Buckley. However, the entry of Jacob changes the mood completely. Jacob's character is an unsettling combination of jokey uncle and menacing bully and is superbly delivered by Arthur Lee, who combines savagery, sarcasm and a self-righteous worldview to dominate the family interactions. Despite his criminal past, and probably future, it is clear that Jacob uses his seniority as the eldest sibling to demand the respect that Chinese culture entitles him to.
In contrast to the malevolent Jacob and an increasingly feeble Penny, the other two siblings bring a wealth of their own issues to the table. Sara Chia-Jewell's May exudes entitlement and insecurity in equal measures, while Stephen Hoo is a ball of nervous energy as Ted. May, the youngest sibling, has returned from America for the funeral and seems to want business concluded so she can return ASAP. Ted, meanwhile, a practising dentist, seems torn between the family and financial aspects of the meeting. However, one thing dominates the meeting: the fact that there is no sign of the inheritance that the siblings were expecting.
A frantic search of the property ensues and, as the money is gradually found in various hiding places, three of the siblings spar to decide who is worthier of the inheritance. Only Penny seems to rise above the tension, but even then, appearances can be deceptive. The use of an impromptu points system to evaluate who has done what for their mother soon unleashes dark tales of abuse and suffering that, at times, make for uncomfortable viewing alongside the comedy. There is also an unsettling similarity to the inter-relationships many families face in reality with bullying, fear and entitlement all present.
Worth is gripping, thought-provoking and, at times, depressingly familiar. However, add in the cultural and generational differences and it becomes an important snapshot of the lives of immigrant families.
Reviewer: Dave Jennings