The Adventures of Wound Man and Shirley
Written and performed by Chris Goode
Queer Up North production
Northern Stage, Newcastle, and touring
(2009)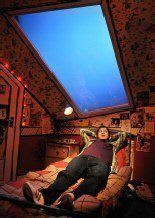 The house lights go down and Chris Goode ambles through the audience and onto the stage. He begins to talk about the genesis of the piece we're about to see, referring to an illustration of the "wound man" (a 16th century medical textbook illustration) projected onto a screen and going back to memories of his childhood and teenage years. He goes behind the screen and the story starts.
"Story" is exactly the right word, for this is story-telling. For the next 90 minutes or thereabouts, Goode tells us the story of 14 year old Shirley, a boy with a girl's name, and Wound Man, a superhero whose ability is to absorb the pain of others, who just happens to have a vacancy for a sidekick.
The difference between this and most story-telling shows is the fact that it has all the trappings of a full-scale play. There is a wonderful set - Shirley's bedroom - by designer Janet Bird, simple yet very effective animations by Adam Smith, and an evocative soundscape designed by Goode himself. Indeed, I have seen full-scale productions with lower production values.
As the story progresses, Goode conjures up a series of engaging characters: the eponymous heroes, of course, but also Shirley's PE teacher, his brother, the local busybody, and the love of Shirley's young life, the wonderfully named Subway Darling, who is the best cross-country runner in the school.
Goode is engaging, indeed charming, and holds the audience's attention effortlessly: a very pleasant and enjoyable way to spend an evening!
Allison Vale reviewed this production in Bath
Reviewer: Peter Lathan