Wow! Said the Owl
Based on the book by Tim Hopgood
Little Angel Theatre
–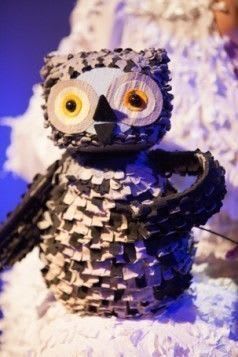 A big twiggy nest hangs in mid air on the simple-looking tent-like set as puppeteer presenter Lizzie Wort chats to audience members showing them a picture of owl in a book and the pair of binoculars she can watch birds through. The long white dress she is wearing makes her look almost feathered. The audience get a chance to know her a little before she starts to tell them this story.
The story, if you can call it that, is very simple. This show, which lasts only about 30 minutes after the performance proper gets started, is aimed at 2- to 5-year-olds and the youngest of that range especially.
Wow! Said the Owl presents a little owl who, instead of being awake at night and sleeping during the day as most owls do, wakes up at dawn and sees the world with wonder. "Wow!" and the children add "said the owl" every time she responds to a new discovery whether blue sky, yellow sunshine, green leaves, orange flowers or red butterflies.
Fiammetta Horvat's set and costume are full of secret caches from which coloured cloths and ribbons can be extracted, a bolt of sky blue fabric flows across the stage, leaf-covered branches sprout, flowers blossom on a frock to operatic accompaniment, butterflies flutter forth and settle. A gauzy bundle is a cloud floating in the sky and then a fish, a swan, a gull. A plastic bag is moulded into the face of a hungry storm cloud gobbling up everything.
At last the day is over, night falls and twinkling stars appear. Little Owl takes it all in and now she stays up all night, as other owls do, until it's morning.
Each new introduction is timed to go on long enough to be sure even the youngest has absorbed the information but not too long for their attention span. The children I saw it with were engaged throughout, though especially liking a section where Owl flew around the audience and they could reach up to touch her.
With simple materials, a torch, a triangle cut-out shapes and piece of cloth and different size Owl puppets designed by Keith Frederick and Dominic Sales's charming music, this is nicely put together but its fluidity depends on the ingenious design, careful planning and accurate playing that director Joy Haynes brings together.
Lizzie Wort is extremely adept in revealing new discoveries, puppet manipulation and musical contribution but could bring more warmth to her audience contact. There was a tendency to use that voice so many use to talk to babies, a smile part of the performance rather than entirely natural. Audiences should always be treated as equals—especially young ones, and a hint of condescension marred something otherwise excellent.
Reviewer: Howard Loxton