Woyzeck
Adapted from Georg Büchner by Ollie Norton-Smith and Hamish Lloyd Barnes
Spies Like Us
Pleasance Dome
–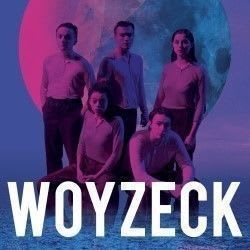 Georg Büchner's unfinished and somewhat disjointed play Woyzeck is thought-provoking and a challenge for any company to produce.
So it was exciting to see Spies Like Us bring their strong, visceral physical theatre style to this story about an oppressed soldier and his slow decline into madness as he struggles to find enough money to support his girlfriend and their baby.
It is a world filled with fractured relationships, the harsh authority of army life and the medical experimentation and deprivation Woyzeck receives from the Doctor to test his limitations, including being forced to only eat peas for three months.
This is very much an ensemble production with highly polished performances from the five hugely talented cast members.
Alex Holley is outstanding in the title role with Phoebe Campbell as his girlfriend always supporting him trying to come to terms with his mental turmoil, giving a delightful portrayal.
She resists the sexual advances of the smarmy Drum Major played by Tullio Campanale who is determined to seduce her and thus humiliate Woyzeck. He also plays the sycophantic Doctor with a disturbing relish.
Completing the cast are Hamish Lloyd Barnes as the despicable Captain and Rosa Collier playing Andres and Margaret.
But what stands out is the sharp, precise, skilful physicality that has become the company's explosive trademark feature. It is performed with breathtaking energy and is simply staged using white sheets and tin buckets to great effect.
Under Ollie Norton-Smith's taut direction, this production is an impressive, stunning piece of physical theatre that I urge you to see.
Reviewer: Robin Strapp