The Wrapping Paper Caper
Written by Liebe Wetzel and Jeff Raz
Lunatique Fantastique
Buddle Arts Centre, Wallsend
(2004)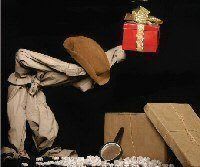 I have to admit that, when a producer friend of mine invited me to a puppet show at the Buddle, I accepted out of a sense of obligation rather than any enthusiasm. I was down almost onto Teesside in the morning (paying the actors of our touring panto which finished today) and the idea of belting up the A1(M) to North Tyneside to watch a puppet show in the afternoon did not appeal in the slightest.
Thinking back, I am not sure what I was expecting, but it certainly wasn't a trench coat and a trilby manipulated by three puppeteers into an hilariously funny Sam Spade figure, nor a piece of red glittery wrapping paper and a piece of gold tinsel which became a glamorous Frenchwoman, nor a figure made out of polystyrene packaging balls!
Needless to say, the audience was mainly young children and their parents (after all, puppets = kids, don't they?), but in fact, funny though the kids found it, this was just as much (if not more so) adult entertainment. It was tremendous fun and the forty minutes passed very quickly indeed. And impressive too: the skill of the Lunatique Fantastique ensemble from San Francisco (Jessica Binder, Megan Campisi, Nicole Frantilla, Aaron Link, Cherie Panek, Hester Schell and Liebe Wetzel) was very impressive. And when, at the end, they showed us how it was done, giving two kids from the audience a chance to try their hands as puppeteers, it just confirmed how ingenious and skilled they are.
A select few of the adults were invited to stay behind after the kids had gone for a two or three minute extract from one of their longer shows - graphic sex from a number of pieces of foam rubber!
No, the "equation puppets = kids" is definitely bad maths! This was witty, ingenious and clever enough to appeal to enthusiastic little 'uns as well as jaded old hacks like me. It's their first visit to the NE - indeed I do believe their first to the UK. They were at the Drill Hall earlier this month and are at the Buddle until 22nd December, so there isn't much time to see them. Let's hope they return soon. If they do, then see them: they will change your perception of puppetry completely.
Reviewer: Peter Lathan