Write Me a Murder
Frederick Knott
Yvonne Arnaud Theatre, Guildford, and touring
(2009)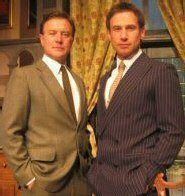 "Just another murder mystery," I thought as I approached the theatre, not expecting anything out of the ordinary, and at first sight that is what it appeared to be. David North's substantial set is the living room of Rodingham Manor sometime in the nineteen fifties with ancestors on the walls, old comfortable furniture, staircase, French doors and the essential library. The only thing missing was a thunderstorm raging outside.
Old Lord Rodingham is dying upstairs attended by his 'family physician' (a description I haven't heard for a very long time) and the two sons have returned to their childhood home to see the old man out. Helen Weir as the hearty, familiar, no-nonsense Doctor Elizabeth Woolley instructs them not to quarrel as she goes upstairs to attend to her patient, so the seed of a suspicion is sown that maybe one will kill the other, and they certainly have very different ideas about what should be done with the vast estate, which also includes a village. The elder brother (and heir) Clive (Paul Opacic) will sell everything, house, land and village, while the younger wants everything stay the same.
Enter Lesley Grantham as Charles Sturrock, previously a delivery boy at the village and bitterly resentful of the fact, but now an aspiring entrepreneur and a thoroughly nasty piece of work – a character Grantham manages to convey in no uncertain terms, snarling his instructions to his timid wife Julie (Maxine Gregory) and browbeating Clive into relinquishing the estate for a ridiculously low price. He's bound to be the one to be murdered – I felt like doing it myself!
The twist comes when it is discovered that younger brother David (Christopher Villiers) is a writer of crime novels and Sturrock's wife has been trying for years to get hers published. Maybe if they write one together she will have more success and they plan to collaborate on creating a murder mystery – the perfect crime – but will they transfer the novel to reality?
There are five scenes in Act 1, and between each scene the curtain descends and we are listening to a telephone conversation. Quite a clever ploy as, although the scenery needs no change, it makes us concentrate on the voices, adding mystery to the thought of what is going on behind the scenes.
Act 2 is a year later. Lives have moved on and personalities have changed during that time, but the same scenario begins to repeat itself with a different target. I don't intend to give away any clues, but suffice it to say that the play is well written, expertly constructed, and keeps you guessing right to the end.
You can pick a few holes in the plot if you concentrate on the details, but overall it is much more gripping than I had expected – real 'edge of the seat' stuff as the audience tries to figure out what can possibly happen next. Intriguingly entertaining, and a very pleasant way to spend an evening.
Touring to Darlington, Cambridge, Wolverhampton, Colchester, Cheltenham, Swansea and Worthing.
Reviewer: Sheila Connor