The Winters Tale
William Shakespeare
The Nuffield Theatre Southampton and Schtanhaus in association with Headlong Theatre
York Theatre Royal and touring
(2009)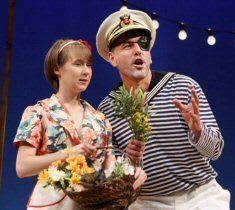 In the heat of the 1930's Italian sun, on a square of golden brown tiles, this cast of nine take on Shakespeare's late romance. Often termed a 'problem play' because of its dramatically contrasting styles, moving from intense psychological drama to comedic fairground lampooning and finally to a somewhat magical ending, Headlongs start with an intimate portrayal of the royal family.
Programmed as part of York Theatre Royal's fantastic 'Take Over Festival' for under 26's, this piece adds to the diverse schedule of exciting theatre currently offered in their innovative programme - the festival really is a must for anyone young and interested in theatre from all around, and not something to miss out on.
The visiting King of Bohemia, Polixenes, is persuaded to extend his stay in Sicilia by the country's queen, Hermione. So begins Leontes, the king of Sicilia's jealousy and a destructive journey towards death, redemption and reconciliation as sixteen years traverse the stage.
Perdita, Leontes' and Hermione's long lost child, grows up as a shepherdess' daughter on the shores of Bohemia unaware of her origins.
Designer Miriam Nabarro presents a pared down setting, with a chaise long and a desk representing the dour Sicilia and chequered table clothes, strings of bunting lights and café tables signifying Bohemia. Traditionally populated by a large cast, director Simon Godwin aims to distil this production down to its essence. Doubling the characters is used throughout with actors portraying lords and ladies in Leontes' court and country folk in Bohemia.
Golda Rosheuvel plays a sassy Paulina in Sicilia and a comedic shepherdess (gender swapped from a shepherd in the original text) in Bohemia. Bryony Hannah portrays a young, pyjama-ed Mamillus before becoming the nurse Emelia and finally the innocent Perdita. John Hodgkinson produces fun with the irreverent Autolycus after being ravaged by a bear (of sorts) as Antigonus. Amanda Ryan gives a delicate but affecting portrayal of the wronged Hermione, engagingly convincing us with her profound, quiet dignity.
This economical production certainly stages Shakespeare without fuss, but it somehow misses the magic of the miracle ending. Godwin comments on Paulina's line to 'awaken our faith' which, in this secular age, is becoming an increasingly difficult task. We have to therefore ask what persuades us to take the 'leap of faith' in this reduced production, and encapsulates the enduring vision that is Shakespeare's unmatchable imagination.
Dealing with Leontes' illogical, ravaging text presents a considerable challenge and Vince Leigh produces an all too coherent King in the thrall of the infectious green-eyed monster. With the gentle colours of James Farncombe's lighting design washing over the backdrop, this production produces a very pleasant evening's theatre without the risk of tragedy. The cast produce a joyful song and dance in their seaside café, with a pleasing jig that has the audience smiling and a picture post-card vision of the waters of Bohemia. Safe on the shores of this temperate existence, Headlong's romantic wintery tale lightly seduces without the fear of the cold, dark bite of frost.
Reviewer: Sacha Voit