Wuthering Heights
Emily Brontë adapted by Emma Rice
Bristol Old Vic, York Theatre Royal, National Theatre, Wise Children
Bristol Old Vic, Bristol
–

Listing details and ticket info...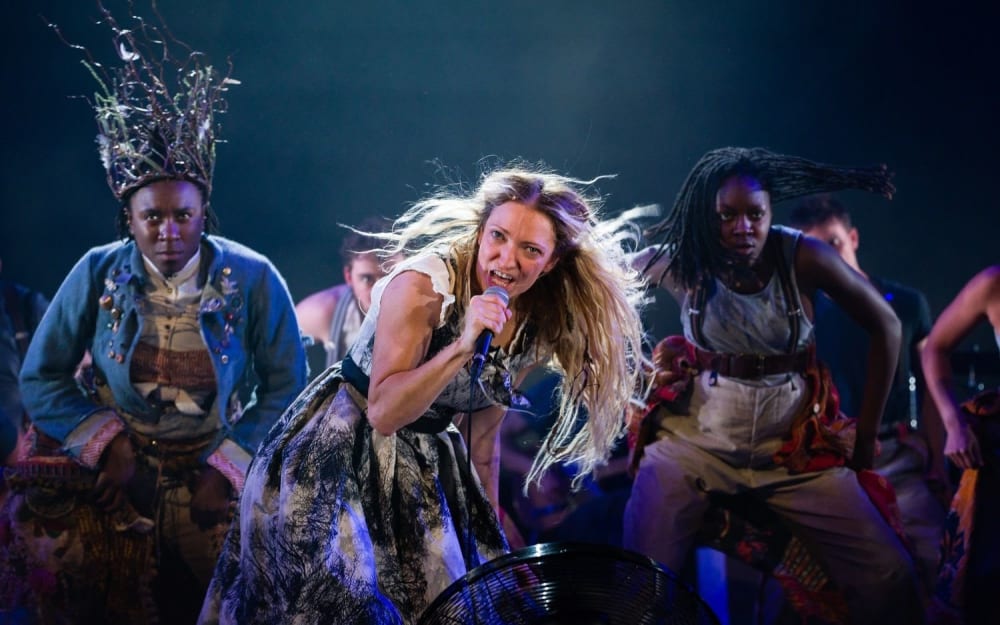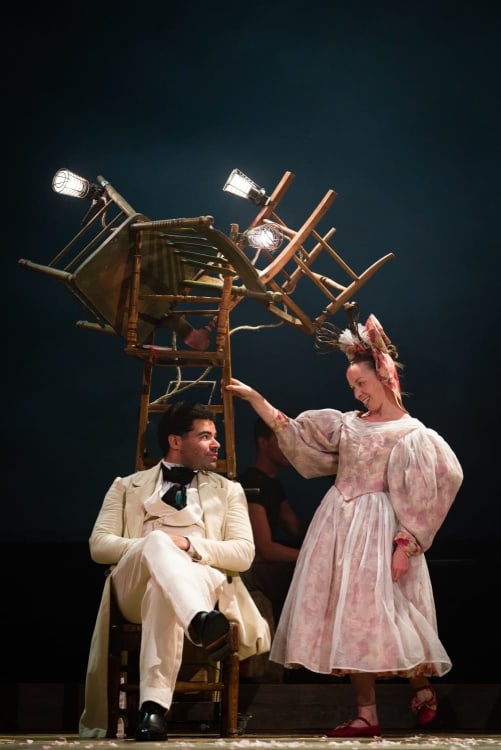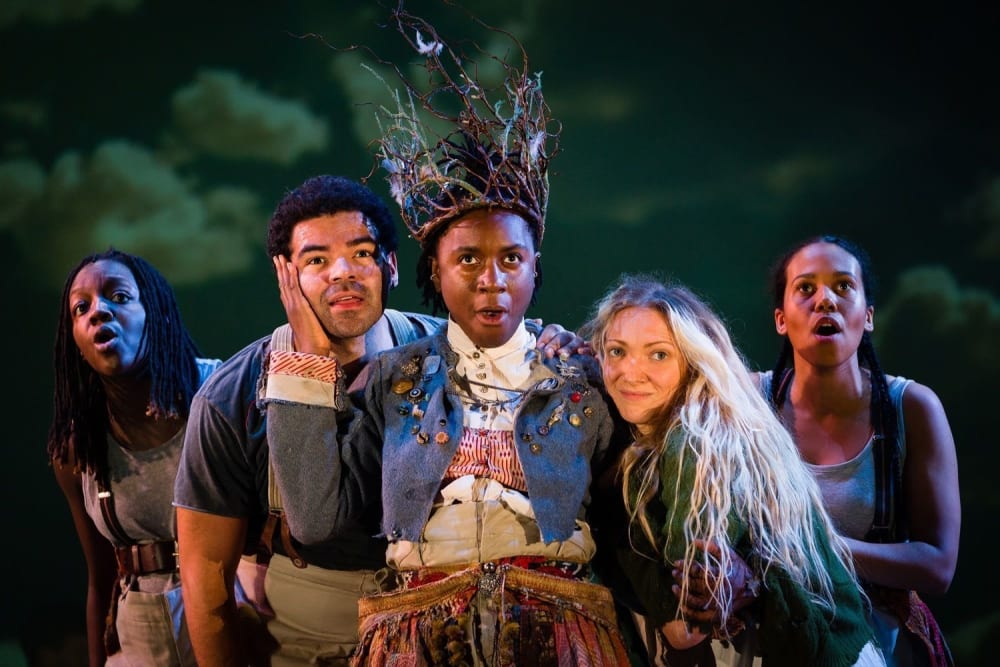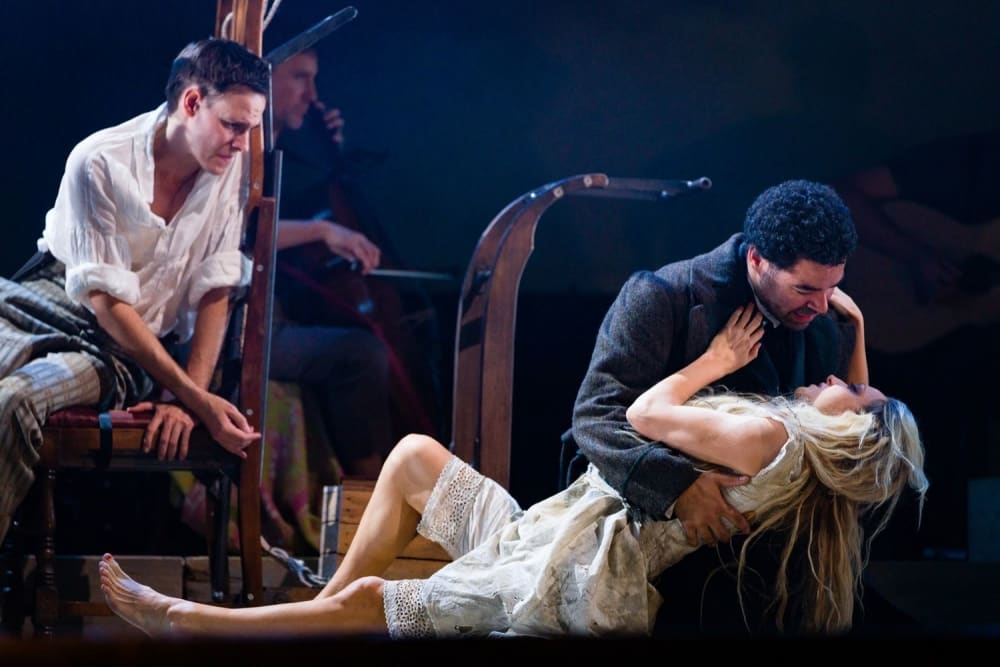 Wise Children's much anticipated new production is Emma Rice's adaptation of Emily Brontë's Wuthering Heights.
This classic Gothic romance is given the full theatre-affirming 'Rice treatment'—her very own individual style of imaginatively anarchic, singing, dancing and rambunctious storytelling.
The malevolent tone is immediately set as the crack of a whip sets off the driving winds across the Yorkshire Moors leaving you in no doubt as to the inhospitable and violent atmosphere waiting at Wuthering Heights. The entire backdrop is a wild, grey, stormy sky. Cast members hiss and roar from side-stage, vividly and viscerally evoking the wind and its terrifying sounds.
The moors, so much part of the story themselves, imaginatively become a 'character' in this adaptation, collectively played by members of the cast and led by the incredible Nandhi Bhebe. Replacing the role of Nelly as narrator in the book, the 'moors' act as a chorus linking episodes in the tragedy and as a constant reminder of their sinister and inescapable influence in the lives of the main characters.
Chairs, either precariously stacked or their broken 'skeletons', evoke the neglect and fragility at Wuthering Heights. A window or door is intermittently rolled across centre-stage, the window either rattling to keep the wind out, or flying open to allow the tormented spirit of Kathy to burst in. The door too keeps the wind out, but is also used to be slammed in the face of unwanted visitors, or to keep unwilling prisoners locked in.
It is not all bleak and tragic. Engaging music (from composer Ian Ross), exuberant choreography (Etta Murfitt) with a live band on stage produce a thrilling and dynamic energy to the production for which Rice's team at Wise Children is uniquely acknowledged. Ingenious use of puppets to play the children or Heathcliff's vicious dogs—skulls attached to the end of scythes attacking any visitor.
Rice also injects many comic moments. The story's confusing and repeated use of the same names and inter-relationships are helpfully and amusingly spelled out. Rice introduces a comic element to some of the main characters' personalities. Catherine's childish petulance is outrageous, the younger Linton a wet sop, and both adult Lintons and Lockwood are presented as middle-class drips. Some are so irritating or unsympathetic, you are almost glad to see them killed off, which fits uncomfortably with their tragic outcomes. It is a curious choice to produce such caricatures, as the production otherwise presents this brutal story of revenge and obsession so convincingly. It seriously risks subverting the whole to farce.
The talented cast led by Lucy McCormick (Catherine), Ash Hunter (Heathcliff), Sam Archer (Lockwood, Linton), Witney White (Young Cathy, Frances) and Tama Phethean (Hindley, Hareton) produce a tour de force of tragedy, comedy, song and dance. The visceral horror as Catherine descends into madness and visibly rots in her grave in front of our eyes is matched only by Heathcliff's destructively brutal desire for revenge and obsessional desire to join Cathy in her grave. Rice produces a true Gothic masterpiece—almost.
Reviewer: Joan Phillips