Wuthering Heights
Emily Brontë adapted by Emma Rice
Wise Children, National Theatre, Bristol Old Vic and York Theatre Royal
National Theatre (Lyttelton Theatre)
–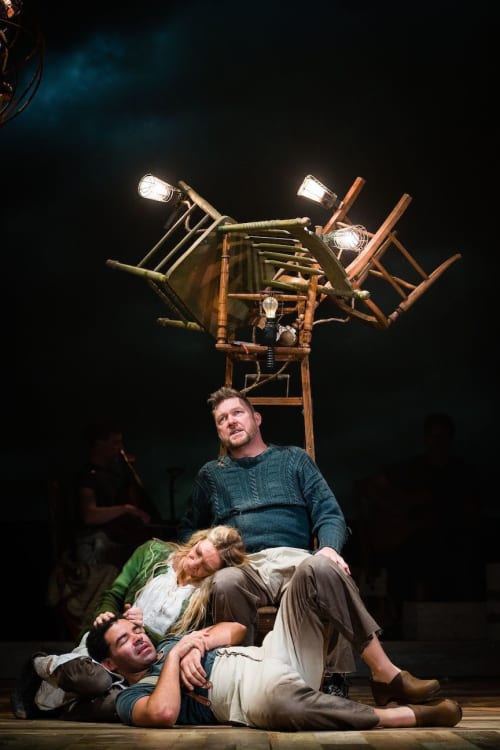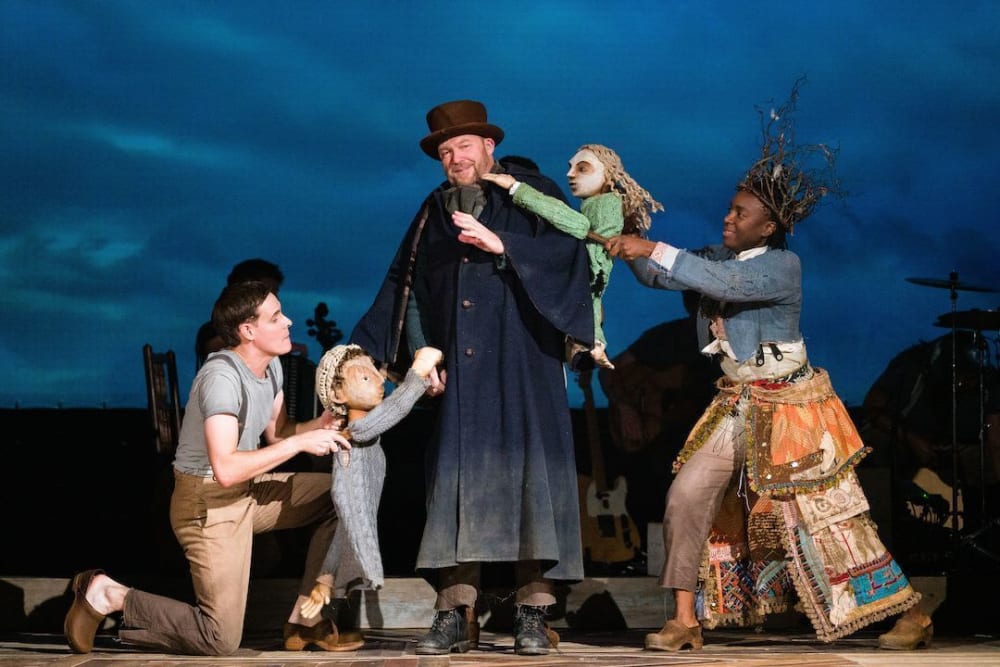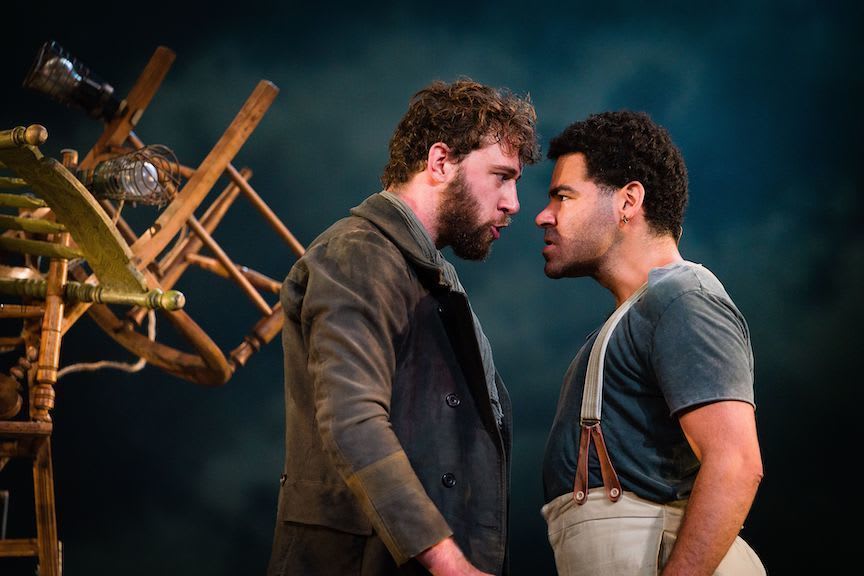 Emma Rice's version of Emily Brontë's gothic novel, which has now reached the National, delivers the story with a visceral energy produced by its sheer theatricality.
Under a menacing skyscape of scudding clouds, a storm rages, the company creating its sound and its movement. Body braced against the wind's force, Sam Archer's Lockwood pays a visit to his landlord Heathcliff while, out on the moor, a demented ghost seems swept along as she clings to a tree branch. In signature style, Rice kicks off the excitement and anyone with the slightest knowledge of the story will guess that that ghost is Catherine Earnshaw.
Like the book, Rice starts off with Mr Lockwood but she makes the landscape itself her storyteller: the Moor, personified by Nandi Bhebhe leading the rest of the company. It is their singing and dancing that fuels Rice's concept; commenting like a Greek chorus, they may issue warnings but also chant, "let the chaos take you". You can't always understand what they are singing, but Ian Ross's music and Etta Murfitt's choreography are full of energy.
On an otherwise bare stage with the cast and musicians on the sidelines, designer Vicki Mortimer uses a cluster of ladders to create a craggy outcrop, trucks in façades of panels that provide doors and windows, builds grotesque furnishings from chairs and in contrast drops in some glittering chandeliers. Chattering skulls on the ends of scythes become savage dogs, the pages of books on poles flap as birds' wings and across Simon Baker's video sky, flocks of crows fly whenever death hovers.
When Craig Johnson's Mr Earnshaw brings home a lad found on the Liverpool docks, whom he names Heathcliff, to join his children Catherine and Hindley, they are played by puppets, but smoothly transition into live actors. Tama Phethean plays Hindley who gives Heathcliff such a tough time. Lucy McCormick is Catherine and Ash Hunter Heathcliff. They both show the hardness which their childhood builds in them but there is little of the passionate feeling that should bind them together, though Catherine's wild laughter seems to forecast a future derangement. She seems more dangerous than he does; earthy voiced Hunter is much more restrained and conveys meaning through eloquent movement.
Katy Owen is like a doll as Isabella Linton, sister of Edgar (Sam Archer), the Earnshaw's grander neighbours, balletically contrasted with the surrounding wildness. Later, as Edgar and Catherine's son, she is outrageously comic. Are laughs in order? Certainly the harshness of this story needs sometimes lightening, but this is Emma Rice going for the moment rather than part of the overall picture.
Kind Mr Earnshaw seems the only nice person on this moor, nurture makes people grow nasty, but countless readers have found romance in Emily Brontë's story. That is missing in this version, but it packs its nearly three hours with deft theatricality that is beguiling and is beautifully performed by the company.
Reviewer: Howard Loxton