Wuthering Heights
Book by Deepak Verma, music by Felix Cross and Sheema Mukherjee
Created by Tamasha, based on the novel by Emily Brontë
Lyric Theatre, Hammersmith, and touring
(2008)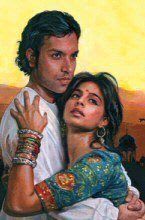 Deepak Verma, who is credited with the original concept and book for this adaptation of Emily Brontë's novel into a Bollywood style musical, has transferred the action from the windswept moors of Yorkshire to the hot desert sands of Rajasthan, the rocky outcrop where Heathcliffe and Cathy have their secret assignations becomes a deserted gazebo by a lake where Krishan and Shakuntala have their trysts. It's a far remove from the bogs and bleak landscape above Haworth but as well as sandstorms it offers an opportunity for colour that's hard to come by in the dour original setting.
Designer Sue Mayes has given in a vibrant setting of ramped sand-coloured levels that suggest barren slopes and splashed them with colourful costumes and props but despite their vibrancy and the introduction of some Bollywood style song and dance ( not Bollywood enough for me) this is not an easy-going feel-good musical. The Olivier-Merle Oberon movie version and countless other adaptations have left an image of Heathcliff and Cathy as being a great romantic couple. In fact the original presents us with two people who are selfish and vindictive and Pushpinder Chani and Youkti Patel reflect this in their playing: they don't make them charming. Their songs and choreography however are heavily romantic while somehow missing any sense of a truly driving passion between them and there is a sameness to much of Felix Cross and Sheema Mukherjee's score. Perhaps it is having to lip-synch to a pre-recorded soundtrack, which they do very well, that stops their performances from being entirely convincing.
The action is framed by an aging mendicant (Shammi Aulakh), who turns out to have a significant involvement, who tells the story to a young street boy (Divian Ladwa) who sometimes becomes involved on stage, as though we ourselves are being led into the story, and the whole ends with an up-beat apotheosis that unites the passionate pair. Gary Pillai is an elegant Vijay, who marries Shakuntala, Rina Fantania a caring Ayah, always ready to find Krishan some sugar cane juice, and one of the best numbers 'Could I Be With Such a Man' is given to Anita (Sheena Patel), Vijay's sister, who falls under Krishan's spell and then becomes his wife. One company ensemble, inspired perhaps by the Ascot Gavotte in My Fair Lady, presents Vijay's household and guests watching a camel race: I got no sense that they were watching anything of the kind!
However, Kristine Landon-Smith's production moves scenes on, segueing into the next and it always looks lovely but though occasionally there are a pair of dancers behind the action and the lead pair swirl each other around, the choreography does not begin to match what I expected from something the producers have promoted as a Bollywood treatment!
At the Lyric until 23rd May then continuing its tour to:
Northern Stage, Newcastle 27th - 30th May; Nuffield Theatre, Southampton, 2n d- 6th June; Belgrade Theatre, Coventry, 9th- 13th June; Harrogate Theatre 16th- 20th June 2009.
Peter Lathan reviewed this production in Newcastle
Reviewer: Howard Loxton