A Christmas Carol
Charles Dickens, adapted by Karen Louise Hebden
Derby Playhouse
(2006)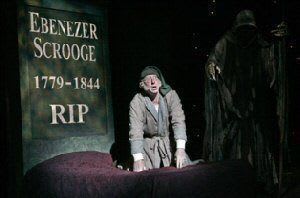 It's only three years since Derby Playhouse staged chief executive Karen Hebden's adaptation of A Christmas Carol. The first time it was performed the management chose it as a cost-cutting measure in preference to a traditional, costly panto, one of a series of moves which were described as essential for the theatre's viability.
Ironically the Playhouse is again looking at its finances after being dark for five months for a range of improvements. Most have been backstage and are of little benefit to the theatregoer.
The Playhouse surroundings are hardly conducive to attracting paying customers; the shopping centre in which the theatre is located is undergoing a massive expansion, with building work so disruptive that it's quite difficult to find the entrance to the car park. The most welcoming theatre award won't be coming to Derby this year, although to be fair that's not the staff's fault.
To make matters even worse, press night of A Christmas Carol coincided with an evening dedicated to late-night Christmas shopping in Derby. Not a good bit of pre-planning.
If you get the idea that you have to make a real effort to see A Christmas Carol, you'd be right. But it's well worth it.
Karen Hebden and director Stephen Edwards have taken the adaptation and honed it so that a delightful evening now becomes absolutely stunning.
While the creative team from three years ago has been retained, the cast is largely new - yet the quality of the acting is as good if not better than the first time the Playhouse presented the show.
One actor who has returned is Ben Roberts. Three years ago I described his performance as "wonderful". Now it almost seems as if the part were written for him.
"Keep Christmas in your way and I'll keep it in mine," he tells his nephew as he remains cantankerous, angry, selfish and soulless - until he welcomes altruism in the same way as he embraces his family and staff.
Roberts gives such an all-encompassing performance that your eyes are unavoidably drawn to him as he dominates the production.
Yet there are other commendable contributions, especially from David Hobbs, a fearsome Jacob Marley restrained by heavy chains as he appears from the fireplace; and William Wolfe Hogan, eye-catching as both Bob Cratchit and the Ghost of Christmas Past.
The last time I saw A Christmas Carol, I remarked that Hebden and Edwards had played down the dark passages of Dickens' work. The current production has a slightly more sinister feel to it without alienating younger members of the audience.
On stage a team of six enthusiastic, smiling children; an occasionally amusing script; and a collection of carols get you in the right spirit for the festive season.
Occasionally some of the singing jars slightly and although there are major improvements to the video design, a few inexplicable images are projected onto the back of the stage.
On the whole, though, A Christmas Carol is an unparalleled delight. There were literally hundreds of schoolchildren watching on press night and they sat enraptured throughout. Magic.
"A Christmas Carol" runs until January 20th
Reviewer: Steve Orme