Xuanzang's Pilgrimage
Composer, writer and director Jiang Ying
China National Traditional Orchestra
Sadler's Wells Theatre
–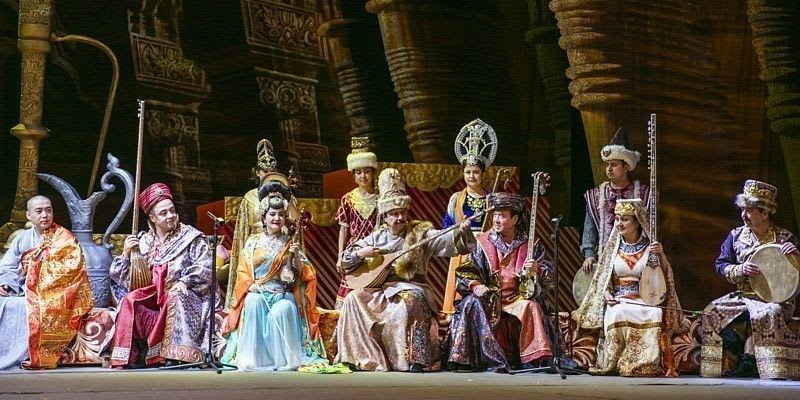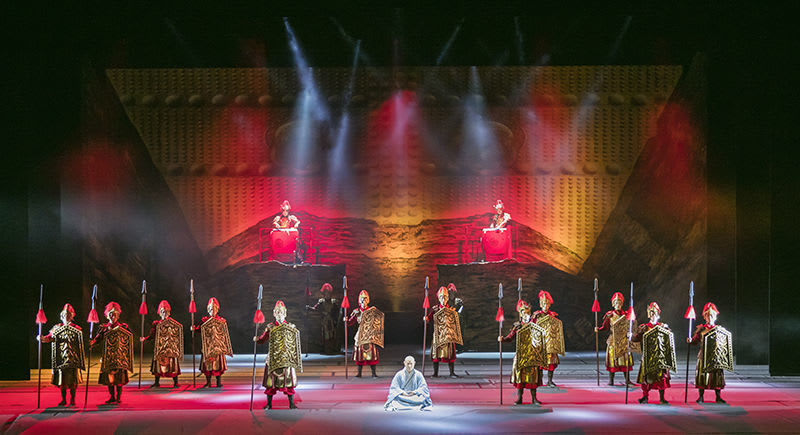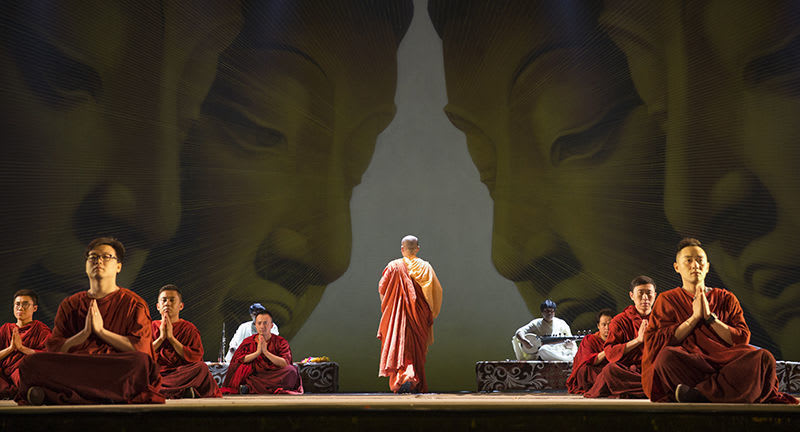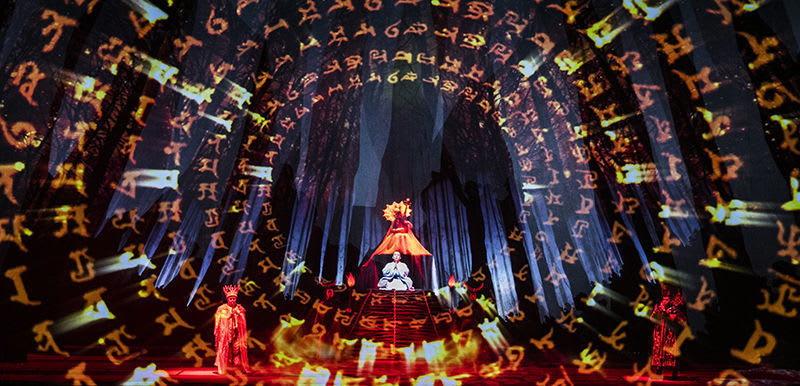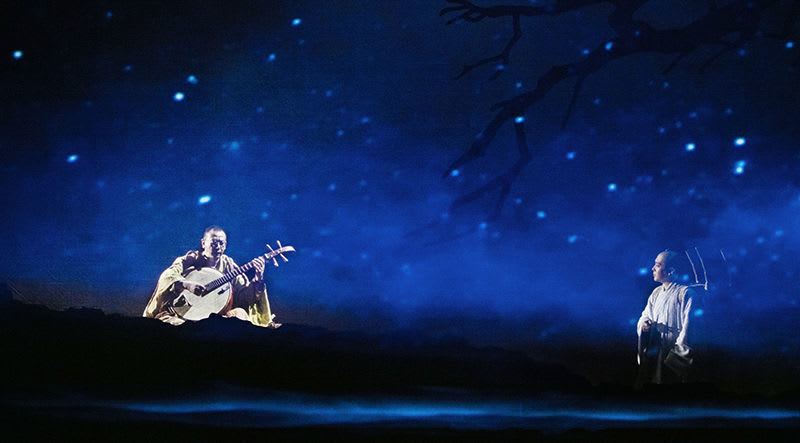 Described by its producers as "the world's first musical drama by a Chinese traditional orchestra," this is neither opera nor musical. Perhaps one way of describing it would be as a staged concept album.
Created at the end of last year, it is a lavish staging of the fifteen movements of Jiang Ying's score inspired by the ancient Tang dynasty story of a Buddhist monk who in the first half of the seventh century made a 17-year-long journey along the Silk Road to India to find Buddhist texts that would guide understanding.
Each movement is themed to represent a particular stage of that journey from its first inspiration through diplomatic difficulties, deserts with raging sandstorms to the court of a king where he saves a princess from sickness. He crosses snowfields in high mountains where the people are descended from eagles, offers himself as a sacrifice to bring rain to a drought-stricken land, is greeted with honour on his arrival in India and eventually reaches Nalanda, birthplace of the Buddha, and receives the writings that unlock Buddhist secrets.
The performance doesn't just illustrate the story, it provides a showcase for traditional Chinese instruments and those of lands on the route that include dizi, xiao, huqin, pipa, suona, ruan, konghou, ghaychak, rubah, dombra, hobez, satar, daf, eagle flute, bansuri, sarangi, tabla and muquam. How many of those did you know the names of, let alone what they sound like?
These many instruments offer a rich range of sonorities that support striking dramatic effects to match the perils of the journey and the violent storms encountered but things begin very calmly with the mature and enlightened Xuanzang (Shan Wentong), Buddha-like on a lotus throne, before introducing the young Xuanzang (Ding Xiaokui) in a bamboo flute duologue with an older monk (Wang Ciheng) to represent his study of Buddhism before he sets out on his journey. One of his first encounters is with a Hun (Jin Yue on the erquanin) whose terrors are vividly expressed in the music.
At a border crossing, where Xuanzang risks execution for not having the right documents, he is let pass because he is unmoved by a thunderous barrage of drumming that terrifies most men. Waterless in a desert, he sees a phantom girl playing a satar (Duan Chao) and in a warning aria tenor Wang Long sings the first vocal element. At the oasis of Dunhuang in western China, he dreams of his destination with music from instruments associated with this region.
Next he reaches the city of Gaochang on the rim of the Taklamakan Desert where he is entertained by its rulers (Liu Yang and Su Ning) with music on the instruments of the Uyghurs and Kazakhs and even a brief dance to the rhythm of a two-note frame drum before curing the princess (Wu Lin on the konghou, an ancient harp though here in a modern shape).
In the mountain snows, he hears a Tajik folk song led by tenor Ahongjiang Duolaitibike, a silhouette-like a bird against the sky, accompanied by eagle flutes, before a video eagle swoops down to carry him skywards. After bringing rain to a drought land, Xuanzang reaches India, greeted by chanting monks and eventually reaches his destination, Nalanda.
The staging is a combination of video projection, rather old-fashioned cut cloths and dazzlingly decorative costumes. The scenic style, the blocking and the simple story remind one of panto—but one that is serious and very spectacular.
The music is rich and dramatic with a full 80-piece orchestra, most in the pit, not just those on stage. There are gongs in the first bars but sweeping strings too; this isn't a sound like Beijing or Cantonese Opera, more like a lush film score, the many ethnic instruments adding interest not oddity. The text is delivered clearly (with side titles in English) and with feeling, Ding Xiaokui's Xuanzang a delight to listen to even without knowing Chinese.
Xuanzang's Pilgrimage doesn't attempt to present his whole journey: it offers separate highlights. Perhaps because this in a presentation developed by an orchestra, they are separated by long pauses, as conductors usually mark the movements of a symphony which makes it feel more like a succession of animated tableaux than a continuous narrative—though perhaps the gaps on opening night were longer than intended for it sounded as though someone was calling cues or instructions with some urgency during them.
Interrupting the momentum meant built-up involvement was lost in the silence and each had to rebuild its dramatic atmosphere.
Reviewer: Howard Loxton