My Father, Odysseus
Timberlake Wertenbaker
Unicorn Theatre (Weston Theatre)
–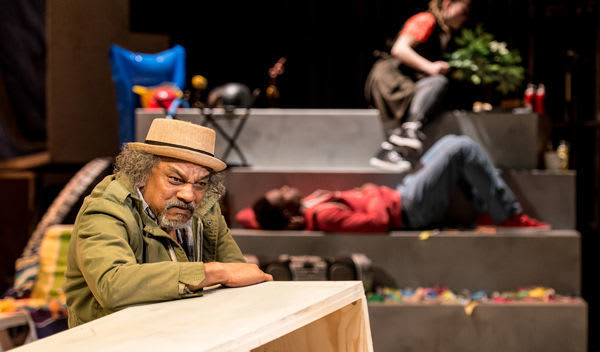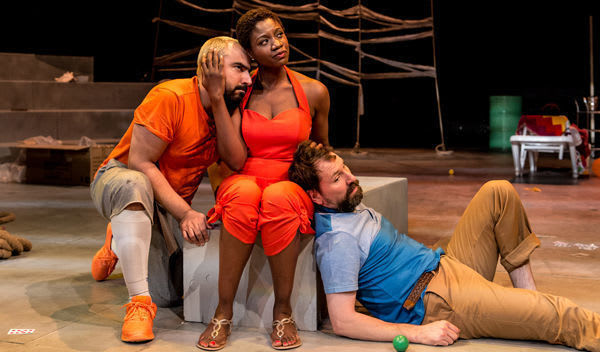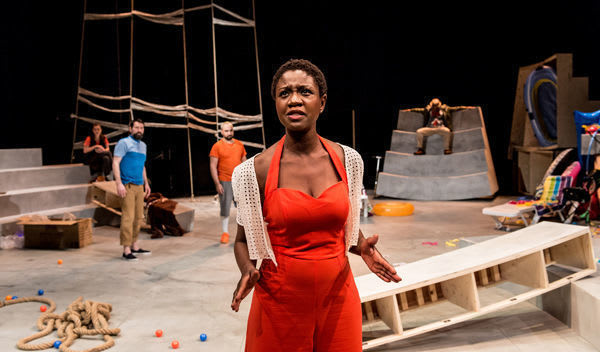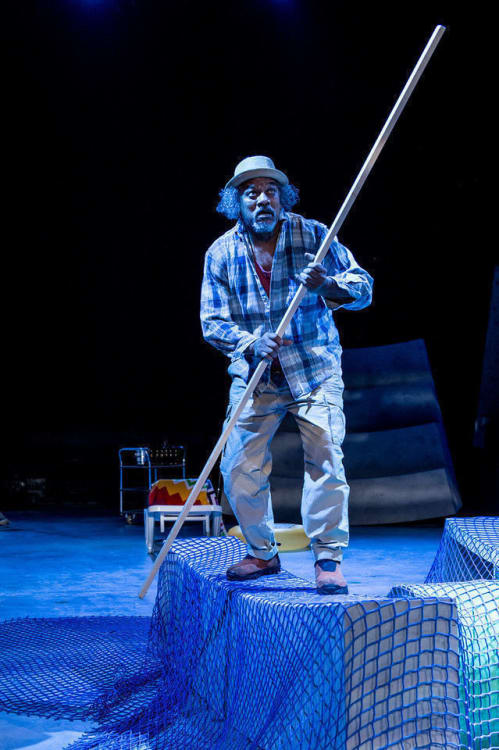 "This story belongs to a time long ago in a place called Greece. This story takes place in England. In South America. Here. Now."
That is the way they start telling the tale of Telemachus, the boy who's the son of a famous father he's never seen, of Odysseus the wily warrior, absent 20 years lost in his travels, and of Penelope his wife, the boy's mother, fending off unwanted guests, the men hoping to marry her and take over Odysseus's property, Telemachus's birthright.
Timberlake Wertenbaker condenses the whole of the Odyssey into some 75 minutes but, though Homer's epic provides the story, this isn't a direct adaptation; it concentrates on ideas of the gap left by absence and what it means to achieve manhood.
It centres on young Telemachus, perplexed by how to protect his mother and deal with the suitors who sponge on their traditional hospitality. What is happening to his father is seen almost as a dream in his mind inspired by the goddess Athena, protector of both of them and Tel's mentor, though she only guides him so far. "I'm not going to tell you everything," she says, sending him off in search of his father.
Right from the beginning, when the audience enter, they are in the palace on Ithaca (if you think of it Greek-wise). Penelope is stretched out on a sun lounger, a disconsolate Tel concentrates on playing patience, Athena hovers near her, Odysseus is far away in the background, one suitor is reading with a beer in his hand, another is kicking a ball around, sometimes up against Tel's back to annoy him, sometimes out into the audience. Lads throw it back, get a cheer if they manage a header, boys at the front leave their seats and kick cleverly. It is fun and everyone begins to feel part of things.
Of course they don't yet know where they are, who these people are, but, when the house lights go down, all the actors come forward and the storytelling begins a rapport has already been created by Purni Morell's production.
As Odysseus's son, young Tel is officially head of the household, but how can he establish his authority? It's not so different from any lad trying to stand up to the bigger blokes, but now that he's older his own need is growing to stand up to these guys. What does he have to do differently to mark his manhood? Does he get it right in the way that he behaves to his mother?
Meanwhile, ageing Odysseus, trapped for years on Calypso's island (though she says her sexual charms no longer work on him) is muddling his memories. He wants to go home. He remembers his Trojan Horse, a brilliant ruse that gave the Greek army Troy, he keeps mentioning it (as does everyone Tel meets on his travels). He has recollections of Circe and his crew as squealing pigs, the wonderful feeling as he heard the song of the Sirens and of going down to Hades, but where is he now? What is happening?
It it is not just growing up that has its problems, perhaps growing old has even more.
Ginny Holder's calm Penelope often disappears into the distance to thread and unthread strips of cloth through a pole framework—you'd have to know the story to understand what she is doing—but it is there for those able to recognise it. She also plays Kalypso and Circe.
Charlotte De Bruyne is a young, slightly exotic Athena, braided and interestingly accented, seeming teasingly playful. Guy Rhys and Ben Adams make the suitors seem quite likeable, so long as they don't pick on you to tease and humiliate. They double as Menelaos and Nestor, the kings Tel meets on his travels looking for news of his father (feeding in a little more of the Trojan War background), and comic sailors turned porker.
Theo Solomon is Tel. Wertenbaker's words have a poetic punch to them and he handles them well. He gets his youthful embarrassed uncertainty then growing confidence, the young audience is with him. Jeffery Kissoon is Odysseus. That rich voice is a reminder of the man he has been but now age and his experiences have taken their toll. When he gets back to Ithaca he doesn't need a disguise to become the disoriented refugee he will pass himself off as.
There is a moment, a moment of absolute stillness, when Odysseus and Tel are finally united, that is a tribute to the power of Kissoon's performance, the strength with which he can project feeling. When they do embrace, the house burst out in delighted applause but there were tears at the same time.
This production is aimed at 11+ audiences. There are some sexual remarks that got shrieks and giggles from the schools with which I saw it and, since Homer makes Tel's and Odysseus' victory over the suitors a bloodbath, it can't help being violent. Purni Morell doesn't pull punches.
To avoid the logistics of firing arrows, the killings are done in other ways but very graphically, the horror simultaneously emphasised and neutralised by the victors led by Athena squirting ketchup all over them.
This makes reactions more mental than visceral and, as the play draws to a close, you realise it is not just about growing up and absence but the damage that war does to people's psyche, even when they are the victors, especially as Penelope, having seen it all, dissociates herself from both the husband she can no longer recognise and the son who is now someone else.
Timberlake Wertenbaker has drawn her own modern message from this ancient story and this production presents it in a way that will connect with young people.
Reviewer: Howard Loxton