Yank!
Music by Joseph Zellnik, book & lyrics by David Zellnik
Aria Entertainment, Hope Mill Theatre, Ben Millerman, Jim Kierstead and Guy James
Charing Cross Theatre
–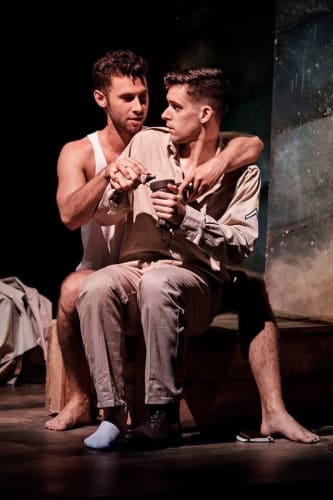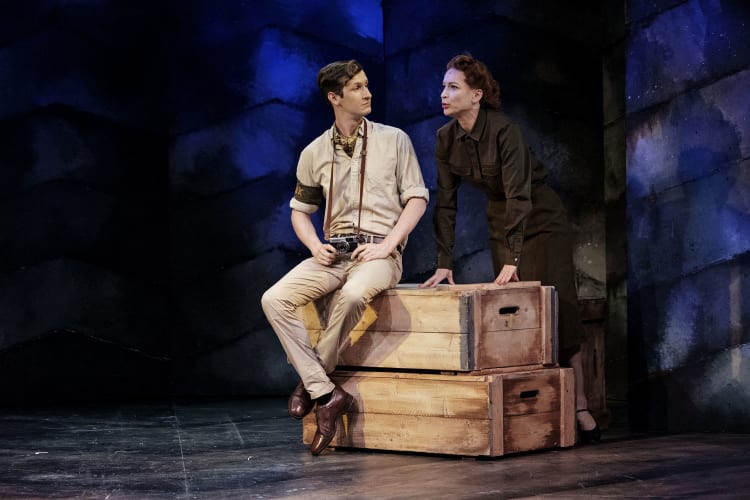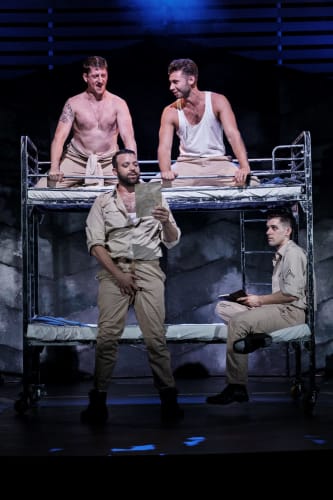 The Zellnik brothers love the movies of the 1940s and set out to write one like them but which could never have been written then.
With Yank! they succeeded. This isn't pastiche; these are lyrics and tunes that are lovely and heartfelt, meaningful numbers built round a subject that back then was then taboo: male on male love in the World War II American Army.
It is not for nothing this production which was first mounted at the Hope Mill Theatre in Manchester opened in London with a slight change of cast the day after the Gay Pride celebrations for, though it has no easy happy ending it is a celebration of an important part of gay history.
In some respects, it is a familiar story of self-discovery and coming out but in a situation where discovery was doubly dangerous. It is framed by the discovery in a box in a second hand bookstore of a soldier's diary with Scott Hunter both opening the show as the guy who finds it and its writer Stu as he goes from his indoctrination into the army into action and discovers his attraction to his own sex which could get him years in the slammer.
At first an embarrassed outsider, he's taken under the wing of attractive Mitch (splendidly played and sung by Andy Coxon) until an encounter with a magazine photographer, the well-connected, cleverly calculating Artie (coolly played by Chris Kiely), who gets him a transfer to be his partner on army magazine Yank. They are usually kept away from the front line but, hearing Mitch is in a bad way, Stu insists that instead of a cushy assignment in Hawaii they join his old squad as they go into action.
Keeping a journal was against regulations. If it came into the hands of the enemy, it might help them. When Stu's is discovered, things are much worse though: it is also a record of his gay encounters. They may only be named with initials but he's in real trouble.
For Stu and Mitch, this is a furtive romance under dark clouds but Yank! is also a show full of humour and warmth, whether it is randy soldiers imagining themselves with their pin-ups or a gaggle of secret queens in the secretariat who have given themselves girls names from Gone With the Wind. Scott Davies, Waylon Jacobs and Mark Paterson double regular squaddies and this hilariously camp crew.
Sarah-Louise Young (a stalwart of the Showstoppers improvised musicals) is the sole female cast member, standing in for the mothers and girlfriends the lads leave behind and the ladies they hear on the radio. She makes their appearance as glamorously sexy as the boys imagine them. She is even more stunning as General McArthur's secretary, a perfect performance, hard-bitten but compassionate.
Chris Cuming's choreography is lively with some great tap work and James Baker creates a fast-moving, fluid production in Victoria Hinton's simple setting of sliding screens that is loaded with atmosphere by Aaron J Dootson's lighting.
There is a great band under MD James Cleeve and this is a musical that gets the sound balance right—you can hear every word except for one number where the intention is a multi-voiced montage of sound.
With songs like "Rememb'ring You" and "Just True", it is a show full of strong sentiment but it is never mawkish. Don't think of this as an homage to the golden age musical and memorial of the gay men and women in the military fighting against Fascism and in the Pacific. It is a musical full of understanding that can proudly stand up on its own two feet and wave a metaphorical rainbow banner; it is moving but also great entertainment.
Reviewer: Howard Loxton