Yasser
Abdelkader Benali, translated by Terry Ezra
Arcola Theatre
(2009)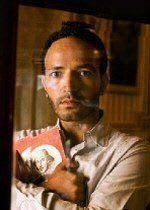 In Yasser, Abdelkader Benali's award winning Dutch play newly translated by Terry Ezra, a Palestinian actor prepares to play Shylock, Shakespeare's Merchant of Venice Jew in a provincial northern playhouse.
We meet Yasser Mansour in a state of anxiety: his suitcase (surely a metaphor for both the transient state of the displaced, and the displaced state itself) has been stolen on the streets of Harrogate; his mother objects to his Jewish portrayal; and his girlfriend Lucy (portrayed but never seen) shows ambivalence to his homeland's plight.
This is a one-man monologue/tour de force, punctuated by comical interjections from the tinny voice of a stage manager. And the small Arcola stage belongs to William el Gardi who reprises his triumphant performance following standing-ovation reviews at the 2008 Edinburgh Fringe.
El Gardi possesses natural likeability and wit, embodying a wide range of pitch-perfect personas, particularly in capturing Lucy's facial and bodily nuances, and in evoking performances on the streets of Palestine, where he and young friends would assume political guises beyond their youthful comprehension.
In the theatrical world of make-believe it should not matter who plays whom. However, the portrait of Shakespeare lying askew on the top shelf of the light-bulbed dressing table mirror nicely encapsulates the idea that nothing is simple when religion and politics are at play.
Reviewer: Anne York