Yeh Shen
Vicky Ireland
Yellow Earth in association with Polka Theatre
Albany Theatre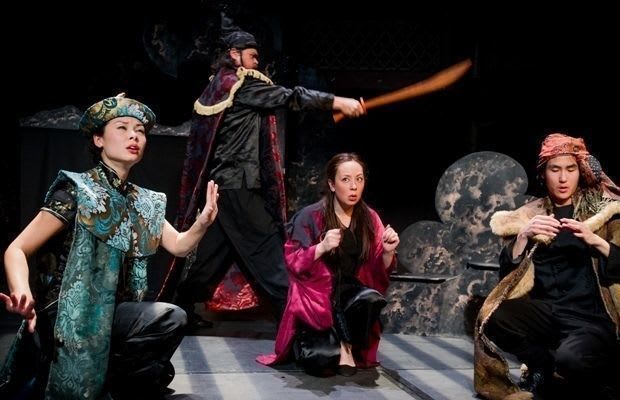 This is the Chinese version of the Cinderella story, known in China a thousand years before it first appeared in Europe.
It tells of an orphaned village girl, ill treated by stepmother and stepsister who, with the help of fish magic, gets a dress and special shoes to go to the village Spring Festival where she dances with a handsome young horse trader but runs off losing a shoe.
It is not quite the same as the European version. It is the King who sends out the search with the slipper, attracted by someone with small feet, and the step-sister who marries him while Yeh Shen (aka Cinders) gets the guy with whom she's in love who turns out to be a prince from the plains of the North as well as an horse trader.
Vicky Ireland's hour-long version tells the story in a simple and straightforward manner, pitched at an age group from six years upwards (and she knows her audience; she was Artistic Director of Polka for 14 years). Kumiko Mendl directs it with a flavour of traditional Chinese Opera with flags and ribbons, music and little dances.
There's a shimmering fish, Yeh Shen's only friend, that leaps from its pool in a shower of water bubbles (in the West it becomes the Fairy Godmother). There is a live-looking cat who is the enemy.
Both are puppets. The big-eyed cat looks very alive and is quite vicious but its stylised bounds stop it from being too real and too frightening. The fish (strangely blue although referred too as golden) is first assembled from glittering pieces, ultraviolet lit in the dark, before nesting beneath the blue silk of its pool.
There are also a splendid horse represented by a pigtailed headdress and a flag-waving dragon who play their part in helping Yeh Shen.
Ashley Alymann starts things off as the whisk-waving storyteller before appearing as the horse, a village elder and a not very nice General—everyone in this small cast is doubling. He is proudly portentous (but at the very first performance sometimes slowed things down a bit too much).
Chris Chan, as both northern Prince Chen Bei and the Han king, plays things lightly and makes a romantic fairy-tale Prince Charming. All the ladies are lively: Kerry Gooderson's Yeh Shen, Anna Leong Brophy as nasty stepmother and a merchant who gets caught up in the story, Rebecca Yeo as her daughter and Zenghui Qiu's village boy and palace guard as well as providing delightful live music.
There are colourful costumes and stylized scenery that suggests Chinese painting and, with a quick transformation, turns into a golden Han palace as well as providing a landscape for some miniature silhouette puppet work, all serving the subject very suitably.
Yeh Shen is touring through the spring and, to judge by its Deptford audience's rapt attention and enthusiastic reaction at the Albany, it is going to give youngsters a great deal of pleasure.
Reviewer: Howard Loxton