Yellow Gentlemen
Ben Yeoh
Yellow Earth Theatre
Oval House Downstairs
(2006)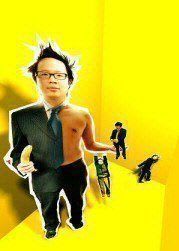 Old Tommy Lee is dying of cancer, watched over by the two people who know him best and have least sympathy for his plight, Middle Tommy Lee and Young Tommy Lee. In discussion with his former selves, Tommy Lee attempts to work out how the roads he has taken and not taken have led him to this final scene, dying alone in a hospice bedroom with only the ghosts of his former selves and their mutual recriminations for company. If you know this when you walk into the Oval House Downstairs, you will have the advantage over me - I found out by reading the programme at the interval. While this made the in-jokes and philosophising of the Tommy Lees in the second half more intelligible than the impenetrable obliqueness of the first, clearly the revelation of such a central device is not best left to the programme.
Assuming you go in armed with this knowledge, Ben Yeoh's Yellow Gentlemen does achieve in part Yellow Earth's mission statement aim of the promotion of cross-border theatre and the China in London 2006 Festival's purpose of promoting the Chinese community in London and its contribution to the capital's cosmopolitan cultural life. Mamoru Iriguchi's Chinese miniature set floats in the dark space of the Oval House downstairs, an island of concentrated identity to which Tommy Lee's various selves return from a lifetime's voyages into London and continental Europe. The unreality of the set with its raked bed and combination of three and two dimensional furniture embodies Tommy Lee's morphine-high retrospective on his life, a three person monologue which is best served when sound and lighting design combine with the action, as in Tommy Lee's literal "flashes" of pain and his flashbacks to youthful nights of dancing and love-making in the clubs of Paris.
Unfortunately, there are only rare moments when the world conceived by Yeoh and Iriguchi is communicated through Bronwyn Lim's three man cast. Part of the problem lies in the casting itself. While Nicholas Goh shows promise as an idealistic student Tommy Lee, neither Jonathan Chan-Pensley as Middle Tommy Lee nor David Tse Ka-Shing as Old Tommy Lee have the outward appearance or emotional depth to convey with any pathos the causes and effects of a lifetime's battered hopes and lost dreams. In purely practical terms, more accurate casting may well have avoided the need one feels in this production for the text to signpost more clearly the relationship of each character to the others. There are moments of possibility - all three actors, particularly Ka-Shing, have strong comic timing and interact well with each other - but both the acting and Lim's direction lack the stylised precision required by Yeoh's text and captured by Iriguchi's design, and only really achieve coherence with text and design in those episodes where dialogue and technical effects meet head-on.
If you have a particular interest in British Chinese theatre, Yellow Gentlemen is worth a watch. As a much needed step in the direction of cultural diversity in London theatre, it is to be commended, and one hopes that other companies will follow where Yellow Earth leads; as pure theatre, while the play itself may have some potential as a slightly wry statement of modern Chinese experience in London, I would be surprised if it manages to articulate this to full effect before 4th March.
Running until 4th March
Reviewer: Louise Hill