Yellowman
Dael Orlandersmith
Everyman Theatre, Liverpool
(2006)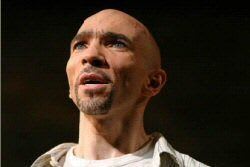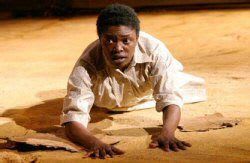 An almost bare stage, two actors and, across twenty years, the bitter self-hatred that drives all bigotry drags two childhood friends through tragedy and loss.
Playwright Dael Orlandersmith has woven monologue and storytelling to speak sensitively and lyrically about intra-racial hatred and the pointless divisions that fuel it. In the heat and poverty of South Carolina, two children form a bond. Alma is of full black African descent; dark skinned, large built. Eugene is of mixed heritage; giving him the pale skin, the "High Yeller" that sets him apart from the rest of the black community.
Anthony Ekundayo Lennon captures wonderfully the vulnerability and bewilderment of Eugene, a boy, subsequently a young man, cast out of his own community for possessing a supposed superiority he doesn't want. Andi Osho presents an Alma full of life and optimism, wise beyond her years, a girl somehow determined, and able, to rise above the self-loathing that has crippled her own mother, and which her mother has done her best to instil in her, and reach out into a broader, braver world.
There are many levels of tragedy and triumph in Yellowman, the greatest tragedy being that a play driven so overtly by self-hatred is based on true stories. Close must come the realisation that the oppression here is internalised. There are no white characters in Yellowman. It's a play about a community tearing itself apart because of mixed race; a "problem" created by whites, presumably primarily by the rape of slaves. But there are no white characters here. People fight and isolate themselves, and each other, over a "pale ideal" but the "pale ideal" never appears, and if it did would dismiss their aspirations and see them all as black. They fight for nothing.
Director Gemma Bodinetz has directed with sensitivity and awareness. Francis O'Connor has designed the production with a light touch; the actors are framed and presented to our attention, which is where they should be. As a text the play isn't entirely without faults, some of the monologues felt flabby and at an hour and fifty minutes the lack of an interval can be hard on the concentration and the behind.
Yellowman is a story of people suffering, hating and self-hating, abusing and self-abusing, and ultimately dying for absolutely nothing. As such it's a meditation on the very nature of bigotry that reaches far beyond its South Carolina confines. There's more poetry here than theatre but the poetry is moving and what theatre there is is spellbinding.
This is the first Everyman Production to be sent on tour. Hopefully it will be the first of a new programme of outreach for this flourishing, exciting theatre.
"Yellowman" is on tour until 25th March.
Reviewer: Ged Quayle