Yerma
Simon Stone after Federico Garcia Lorca
Young Vic Theatre (NT live)
Regal, Evesham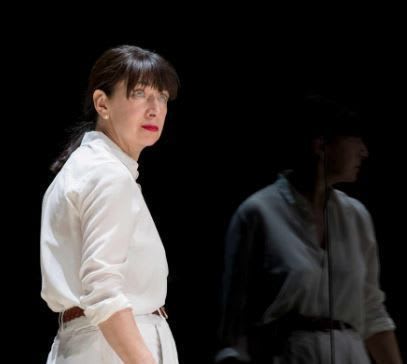 If I were a boxer, I'd be on the canvas, out for the count, after what felt like the most relentless assault since the first time I saw Who's afraid of Virginia Woolf—and then some.
Yerma, writer / director Simon Stone's reworking of Federico Garcia Lorca's original, tells the story of the central character's obsessive desire to have a baby.
Billie Piper is magnificent, a seething, over-charged biological time-bomb whose energies are concentrated into that single drive to create a life. Brendan Cowell is almost as good, as husband John, a man with other business on his mind until it's too late to save her from self-destruction.
Like cage fighters, the characters confront each other within a glass box. Each scene is more harrowing, more brutal than the last, from an opening stream-of-consciousness, drunken sex talk to outbursts of blind rage. The effect is intense, shattering.
The piece is remarkable for its penetration into the dark depths of its three main female characters. Piper's—known only as Her but described by the word Yerma (barren in Spanish)—is a journalist, secretly rejoicing when her sister suffers a miscarriage, and writing frankly, too, too frankly, about those feelings in a blog.
Her sister Mary, played by Charlotte Randle, is already a mother but, oh irony, hates her baby son and would rather hand him over. Then there is the sisters' own Scottish lecturer mother Helen, the excellent Maureen Beattie, an emotional refrigerator and dry as an oatcake, who conveys her revulsion at pregnancy by likening the delivery of her daughter to that eruptive moment in Alien.
Motherhood and apple pie? I don't think so.
Amid the awful sadness, there are nevertheless good lines to treasure, even if the humour is bleak. There are plenty of fish in the sea, the unhappily married Mary is told. Yes, she replies, it's just that they're all old ones like puffer fish. And of the immaculate conception, Piper notes bitterly, "with God, it's all just clickety fingers, is it?"
The dialogue, with actors talking over each other, can be hard to follow and the sound from inside that transparent echo chamber seems shrill at first, but this turns out to be conditioning for the pummelling to follow and the terrible compassion one feels for those who have really gone through it.
Reviewer: Colin Davison