Yes, Prime Minister
Antony Jay and Jonathan Lynn
Chichester Festival Theatre
Gala Theatre, Durham
–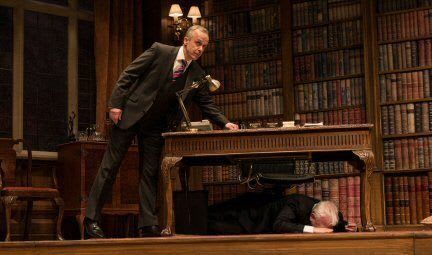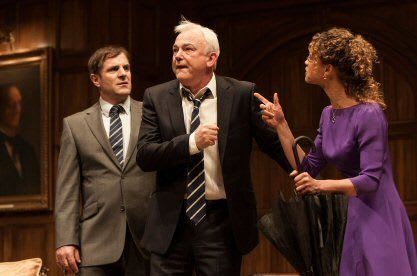 What differentiates this production of Yes, Prime Minister (which opened at Chichester in 2010 and has toured since 2011) from other stage productions of popular TV comedy series is the fact that this is a new story, not a recreation of something that has already been seen on TV, although it was filmed, with the Chichester cast which included Henry Goodman and David Haig, for showing on comedy channel Gold.
This means that it can be given a contemporary feel. Jim Hacker's government is now in a coalition, there are moves afoot in the Cabinet to unseat him, the BBC is out to "get" him, an illegal immigrant is discovered to be the chef at Chequers, the economy is in deep trouble and Kumranistan, with its newly discovered oil, is prepared to make a massive loan but its Foreign Minister, who is staying at Chequers, demands that he be provided with three call girls (one white, one black and one Asian) for the night…
There's a new character—Claire Sutton, Hacker's Special Policy Advisor, whose continual presence reflects the increased importance of such posts in Downing Street—and we also get to meet the Director General of the BBC and a Paxman-like figure, BBC presenter Simon Chester.
The updating continues, even in this touring production: in the original Chichester production the Foreign Minister required an under-age girl but clearly post-Saville and so many child abuse scandals this is not now considered a subject for humour.
The characterisation differs to a degree from the original TV series, partially because of the writing and partially because of the actors. Michael Fenton Stevens puts his own stamp on Jim Hacker, very different to Paul Eddington's interpretation. He is more assertive and more willing to take on Sir Humphrey but just as liable to sink into despair when his political career is threatened.
Crispin Redman's Sir Humphrey Appleby lacks the oiliness and arrogance of Nigel Hawthorne's original but retains the ability to dazzle and obfuscate with his long "simple" explanations, all of which drew delighted applause from the Durham audience. His patronising "dear lady" to Claire Sutton (Indra Ové) seems more for form's sake, lacking the bitterness of Hawthorne's character, perhaps reflecting an unwilling acceptance of the position of Special Advisor.
As befits, perhaps, a woman of the 21st century, Ové's character is more feisty and go-getting, more willing to take the initiative, than the Dorothy Wainwright of the TV series.
Bernard Woolley has developed more backbone but still remains somewhat out of his depth. Michael Matus gives a nicely nuanced performance here.
With a beautifully designed and constructed set - a drawing room at Chequers – from Simon Higlett and subtle but very effective lighting from Tim Mitchell, the production values match the writing and performances. It's very funny and hard-hitting but I did feel it was a little too long, losing ten minutes from each act would have made it more effective.
Reviewer: Peter Lathan