Yes
The Adrian Mitchell Show
Wonderful Beast
Rosemary Branch Theatre
(2011)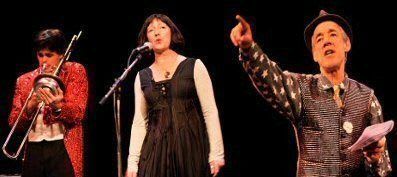 A marvellous chance to catch this celebration of the poetry of Adrian Mitchell playing as part of the Rosemary Branch Theatre's "Branching Out" Festival which has been showcasing a whole range of new and original work since 8th November. Commissioned by The Poetry Trust and first performed at the Aldeburgh Poetry Festival in 2009, it has been seen in a number of places and will continue in the company's repertoire.
On this occasion it is performed by the poet's widow Celia Hewitt, their daughter Sasha Mitchell and fellow actors Ann Firbank, Roger Lloyd Pack and Matt Prendergast with Miguel Tantos on trombone and Sylvia Hallett at the piano.
It draws on poems across the whole range of Mitchell's work from his children's verse to his most political poetry, from the deadly serious to the very very funny. He was probably best known in the theatre for his Tyger about William Blake for the National Theatre among his many plays for adults and children, his work with Peter Brook on the RSC's US , and for his English adaption of version of Peter Weiss's Marat/Sade as well as other translations and libretti. This programme draws its material from non-theatre material yet it is intensely theatrical for his is poetry to be spoken, poetry to be performed as it is splendidly here, often sung, and always moving and entertaining according to its style.
You know you are in for a good time from the moment Miguel Tantos in his red-sequined circus-master's frock coat comes down the aisle softly playing his muted trombone, leading the company in to hang Miriam Nabarra's lettered bunting, which forms the simple set. Director Alys Kihl keeps it nicely flowing from one element to the next. It is full-blooded and richly characterised but never overblown.
"Nobody should ever read aloud in public a poem they don't completely believe."
That's what Mitchell says in Just Adrian a collection of his writing on theatre recently published by Oberon. These performers certainly believe them whether it is his daughter Sasha singing "Fifteen Million Plastic Bags" to the tune of 'St James' Infirmary' or Roger Lloyd Pack delivering "A Puppy Called Puberty" about that rigid embarrassment with which every male in the audience could identify.
Whether delivering his attack on government cuts to the arts, as relevant today as when written during the Iron Lady's reign, or his dark vision of war on the doorstep in "The Doorbell" or his marvellous poem on Chilean singer songwriter Victor Jara prisoner with thousands in a sports arena before his torture and murder, these are heartfelt performances. But there is also the crazy joy of "I Am Boj", the morning monster invented (as the family explain) to discourage Sasha and her sister from waking their parents up too early, performed by Matt Prendergast who also has great fun with "The Bum Collectors Song" and Ann Firbank capturing all the hilarious horrors of touring school Shakespeare as a Lady Macbeth upstaged by a banana.
You can't help remembering that old cliché that someone could perform the telephone directory when Roger Lloyd Pack catalogues "The Plays What I Wrote By Shakespeare" but this isn't just a list, it's Adrian's sharp description of each play and clever distortions to produce his excruciating rhyming and Roger plays it like the bard
There is lots more, packed into a programme just over an hour long, including the spirited "Fuck Off Friday" and though it helps to be a Socialist if you are going to join the sing-along this is a programme to touch the heart and warm the spirit whoever you are. If you miss it this time round look out for future performances, you won't be disappointed.
"Yes" ends at the Rosemary Branch Theatre on 23rd November. The Branching Out Festival continues until 2nd December 2011
Reviewer: Howard Loxton