Yes So I Said Yes
David Ireland
19th Street Productions in association with Neil McPherson for the Finborough Theatre.
Finborough Theatre
–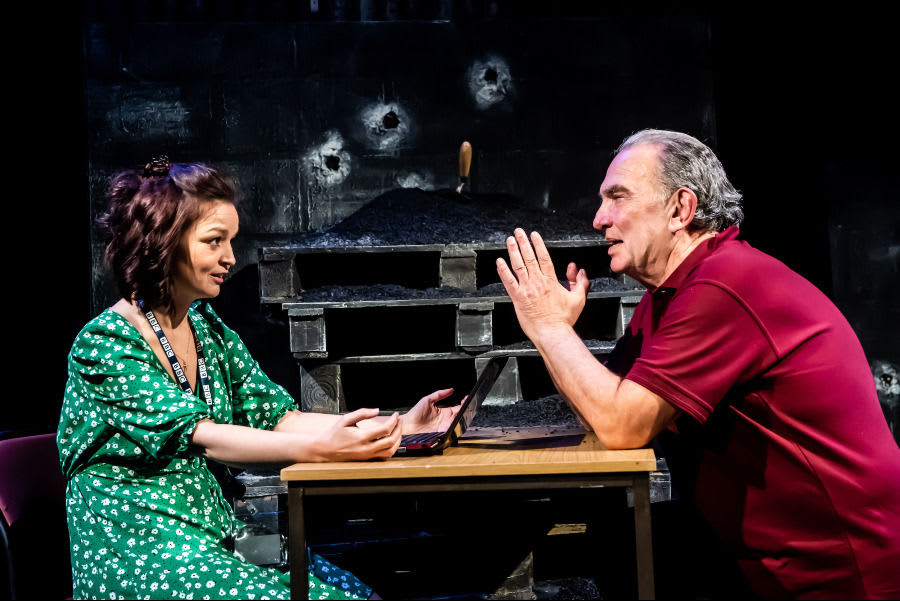 David Ireland describes his play Yes So I Said Yes as "a kind of deranged younger brother of Cyprus Avenue". You can certainly see the similarity. Both centre on an Ulster Protestant Unionist fearing the encroachment of Irish Republicanism. Their paranoia conjures up bizarre distortions of that fear. And even as you laugh at the satiric twists in the stories, you are horrified at what you see.
Yes So I Said Yes centres on the Protestant Alan 'Snuffy' Black (Daragh O Malley) who believes he might be the last Protestant in Ireland. In the past, he has killed people to defend the Union but now seems lost, depressed and has problems with his ears. He is also woken in the middle of the night by the barking of his neighbour's dog, though the neighbour (Owen O'Neill) says it isn't his dog. He visits a BBC studio to ask a radio and television commentator to explain what is happening to him. When the receptionist (Laura Dos Santos) realises he is a Protestant, she vomits.
His search for comfort takes him to a talking dog (Kevin Trainer) who claims he has been mutilated, to a surreal sexual encounter and to unexpected conflict with armed masked paramilitaries in black (Declan Rodgers and Kevin Murphy) who bear the names of historic leaders of the Ulster Union. None of that gives him a sense of belonging. Even a Unionist paramilitary admits "a united Ireland's inevitable, so we may as well face up to it."
The seventy-five-minute play performed by a fine cast of six against a set with many bullet holes is always touched with humour, though its macabre metaphor of a defeated community is bleak and at times deeply unsettling.
Reviewer: Keith Mckenna