You Can't Take It With You
Moss Hart and George S Kaufman
The Alley Theatre
Hubbard Stage, The Alley Theatre, Houston TX
–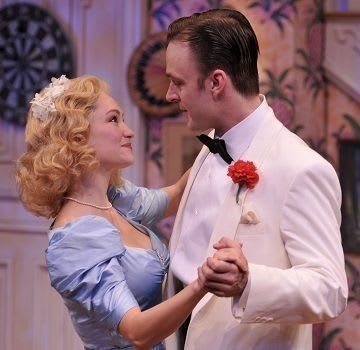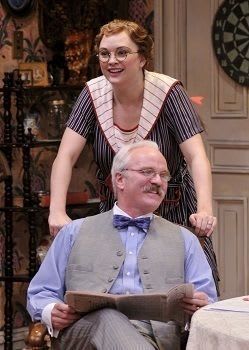 In all its eighty-year history, Kaufman and Hart's Pulitzer Prize winning You Can't Take It With You has always been a great audience-pleaser. (The Pulitzer is one of the top level playwriting awards in America and it's very rare for a comedy to win).
It's sure-fire-funny as it paints the adventures of a quintessentially all-American family complete with its own fireworks factory and printing press, its own dying swan of a ballerina (who can't dance but can bake a mean piece of candy), its own playwright—after all, you can't just throw away a typewriter that was delivered in error eight years, can you?
Presiding over the daily chaos of this three-generation extended family is patriarch Martin Vanderhof who retired from the business world 35 years ago and hasn't regretted it since. He hasn't paid any taxes in all those years, and the play becomes very relevant to today's post-shutdown audiences when Martin grills the man from our Internal Revenue Service about what exactly his taxes are paying for. The audience roared when Martin declared the entire list is worth "about 75 dollars".
His granddaughter, Alice, loves her odd extended family; she's the only sane one in the entire lot. But her life comes perilously close to falling apart when she falls madly in love with the son of her boss's Wall Street firm.
This kind of play was a staple on Broadway for decades with comedy after comedy about odd people in odd families doing odd things: this is a clear predecessor to Neil Simon, especially in his early plays. There's not much to work with in terms of character—the ditsy dancer is little more than that; the pretty normal girl is a contrast to the rest of her family and not much more than that. What's needed is a perfect sense of timing and the ability to deliver a line with a zing.
And that the actors in this cast have. From top to bottom, the entire cast do exactly what it has to do. As they say, "get on stage, say the lines, and don't bump into the furniture." But as any actor or director knows, comedy is much harder to do than drama. One little pause and—pffffft—the whole soufflé collapses.
The ensemble delivers the play with skill and zest and love for their material. There are several standouts—Broadway veteran Josie de Guzman is a standout as Penelope Sycamore, failed playwright and painter; she reminded me of Lucille Ball standing at the centre of a comic storm and going "there, there" in an ineffectual way. James Black is wonderful in an entirely different way—the strong rock of the household, he is quietly amused by the antic goings on, until he is needed to save the day and make sure Alice meets and keeps the right guy.
Emily Neves as the ingénue Alice is also very fun—and easy—to watch. You believe that she loves her family intensely. You also believe she wants to kill them. And you love her for both those things. Never have I wanted a gal to get the boy more than I wanted Alice and Tony to make it. Tony, a paper-thin romantic lead if ever there was one, is played just right by Jay Sullivan.
However, David Rainey (Donald) and Jasmine Bracey (Rheba) steal the show as the house's domestic servant and her boyfriend, especially in the scene where they have to fling together a dinner with no food in the house—each time Donald skittered back and forth across the stage, moving a little quicker each time, the audience cheered him on even more.
I wish space and time would permit me to mention everyone but, believe me, they all do everything just right. And all this takes place on one a set perfectly designed by Hugh Landwehr. The set is an exact replica of a Victorian turn-of-the-century house but stuffed full of everything possible, from a water buffalo's head to pictures to knick-knacks on every possible surface.
You might quibble with the play—though its concern with the socialism of the period makes it a bit deeper than most of the conventional comedies like it—but the production by the Alley Theatre could not have been more perfect.
Reviewer: Keith Dorwick